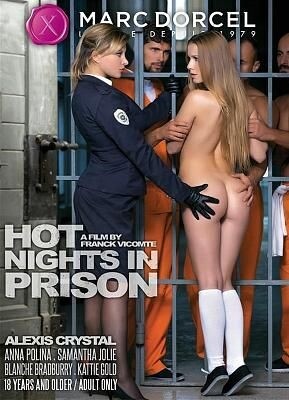 An elegantly dressed blonde woman (Samantha Jolie) is ushered into a prison cell where three men are sleeping. They wake up and go at her — it's like they can't believe their good fortune.
First comes a mini-blowbang, then sucking while standing and being fucked from behind and finally, a super high-energy DP. After that, the guys takes turns fucking her ass. Samantha has a smile on her face when she puts on her clothing and leaves.
This turns out to be a special kind of prison, privately owned, where well-heeled patrons can indulge their sex-behind-bars fantasies with actual criminals. Euro-star Anna Polina plays the warden, hard-boiled but hot, who keeps the clients moving and gets in on the action herself.
When two new prisoners arrive, she makes one guy buttfuck her as she blows the other. In a very hot scene a TV news celebrity (veteran stud Georg Uhl) gets the prisoner treatment as Anna shares him with guard Kattie Gold. Sweet young Alexis Crystal has to fuck the elderly prison owner's driver.
The movie ends with another DP, on blonde Blance Bradburry as a slumming tourist who gets what she came for, and more. Heavy on the anal sex, this is Europorn at its hottest.
Synopsis:
Inside this very special prison, there is one simple rule: to have the right to orgasm, you must obey. When this innocent young woman first enters the prison walls she has no idea that she has just penetrated a den of pleasure and vice. The strict Anna Polina, the prison supervisor, rules the prison with a rod of iron and the young woman and her fellow prisoners have no choice but to submit to her every desire. While rich business women come from far away to treat themselves to an expensive night in the company of three virile inmates and experience for the first time the intense pleasures of double penetration, our heroine will discover everything about the workings of this very special establishment...