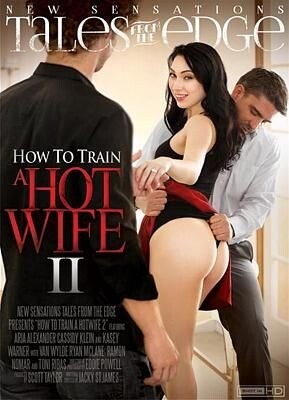 Cassidy Klein and Ryan McLane are keen to experiment sexually in their married life. "Whatever turns you on turns me on," Ryan tells her. On a hotwifing website, Cassidy finds a story that turns her on to the max. Aria Alexander wants to "explore her sexuality." Husband Michael Vegas, facilitating as a third party, watches contentedly as Toni Ribas, a gym acquaintance, fucks his wife and makes her scream. Cassidy gets so turned on that Ryan encourages her to do the same thing.
Her friend, Robby Echo, tells her how he got his wife, Kasey Warner, to sleep with another guy and love it. "I want to make you have a good time," he tells her, as he watches Ramon Nomar fuck her hard. He too facilitates the sex.
Cassidy dares Ryan to let her have her first hotwifing experience. She chooses Van Wylde and their coupling is slow and sensual. Ryan isn't present but Cassidy does some neat POV shooting with her digicorder of him eating her. Van then shoots her sucking his dick — all for her hubby's benefit. The experience, Cassidy concludes, "created a sense of trust and intimacy I never would have thought possible."
Synopsis:
Ryan and Cassidy have the dream marriage both emotionally and sexually. But after a heated sexual encounter one night, Ryan confides in Cassidy a desire to have her with other men. Taken aback, but curious nonetheless, Cassidy takes to the Internet and discovers the erotic world of hotwifing. She becomes aroused by stories shared by couples, all of which have equally stable and satisfying marriages, and her interest in the lifestyle begins to grow. Knowing that his wife is receptive, Ryan begins gently pushing her to fulfill his wildest fantasies. With the help of his best friend, some sex toys, and good, old-fashion role play, Cassidy soon discovers that hotwifing isn't just about her husband's desires, it's about hers as well.