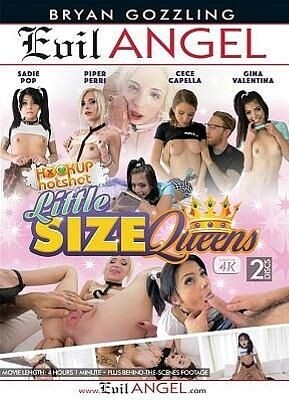 In this two-disc set from Evil Angel, it's all about petite princesses getting banged silly by our male performer/director (that bespectacled, fully "Illustrated Man" Bryan Gozzling), who wisely hands over the camera to a third party for a steadier, closer and clearer perspective of the wet, wanton and wild action.
Actually, each girl featured is awesome, with Goz-baby pretty much giving us the same scenario, before slamming 'em with ham. And what a start we're off to, indeed: It's none other than sweet 'n' slutty Brazilian Gina Valentina (perhaps my favorite of the quartet), who owns one of the most perfect little asses and eats male ass like a champ, while sucking cock with the maximum amount of saliva and deepthroating. And what a pussy pounding she receives! Oh yeah, the "story" framework of each X-cursion (almost identically) involves flirtatious texting/sexting between Gozzling and his gal-for-the-moment, who comes over to his pad to inevitably have her face and body hammered by hose, before said mug is bazooka-ed by Bryan batter.
And the other beauties? Platinum blonde Piper Perri is quite the wiry spinner (like our other three young lassies!), sucking and fucking with pride, as well as eating Gozzling's flatulence with unflinching courage. Give that bitch a medal. Puerto Rican Sadie Pop starts off disc two looking like a cousin of Gina's, while getting the same seriously potent mouth reaming (at times upside down on the edge of the couch, with each girl ultimately creating a cocoon of spit on her own comely face), followed by a devastating vadge assault. Lastly, Cece Capella has an awesome set of all-natural boobies (like all of these chicks, only Cece's boobies are relatively much bigger) and comes across like a shy newbie who submissively digs her dosage of unrepentant dick drilling, in cake hole and cunt.
"Little Size Queens" is definitely a return to the dirty, near-savage stuffings which made Max Hardcore famous; or, rather, infamous… minus the anal probings, big hat and mountain boots.
Synopsis:
Girls in the online dating scene come in all shapes and sizes, but there's nothing quite like the petite ones! In this latest edition of "Hookup Hotshot," four tiny Internet babes get fucked to the very edge and don't look back! Gorgeous, big-titted Cece Capella gets fucked harder than ever before. Eighteen-year-old Latina Gina Valentina fucks and chokes on cock. Mini-cutie Piper Perri gets cum all over her braces. Little Sadie Pop gets fucked and loves it! These little size queens love it rough!