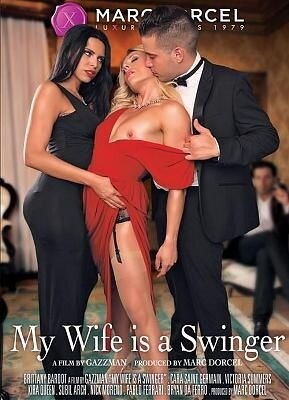 French MILF Brittany Bardot plays a rich woman who's so pissed off at her cheating husband (Nick Moreno) that she decides to become a swinger. In the first scene she and Nick fight then fuck, and he takes her in the ass on the dining room table.
Brittany then seduces family friend Cara St. Germain. When hubby tries to join in Brit tells him to "watch and learn." The ladies can't keep their hands off the dick and a passionate threeway ensues.
At a pool party, two guys put the make on the maid, who's having none of it. So, they turn their attention to Brit, who's all too eager to take them on for a lusty double penetration. Later on, Brit and BFF Kira Queen go out on the town "like tigers on the prowl." They wind up at a luxe dinner party and seduce a chauffeur who fucks them both on the hood of his car.
When Nick finally confronts Brit about her swinging, she says so what? She'll make him happy by bringing him fresh girls to fuck. She brings on a blonde and a brunette, watches him fuck them, and gloats.
Synopsis:
Encouraged by her best friend, this beautiful mature blonde decides to go for it. Swinging will help her refine her sexual prowess and discover ways to reach orgasm which she didn't even know existed. It's the start of a completely different life for her. Her first foray into swinging starts with a particularly wild lesbian encounter with Cara, the au pair. Under the astounded gaze of her husband, she makes the young woman cum several times before throwing herself into a supercharged threesome in the middle of the garden. She only thinks of one thing now: going even further and pushing the limits. But where will this quest for pleasure end?