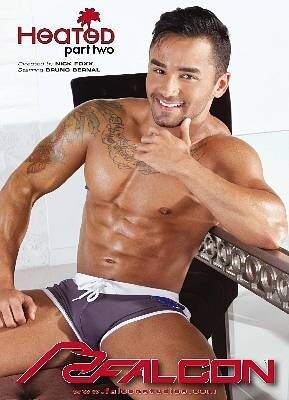 Handsome Chris Bines, inked and intense, swaps spit with blonde, clean-cut Scott Riley poolside. They quickly strip off their wet swimsuits and Riley moans and groans as he submits to a deep fuck from Bines. The cumshots are good.
Rising newcomer Jack Hunter and Addison Graham share a shower, which leads to a makeout session and traded blowjobs. Hunter steals the show as he easily deep-throats Graham, who vocally approves. They jack off together. Hunter returns for a more passionate hookup with Sebastian Kross, who is quite a figure for fantasy: babyfaced with body ink covering a delectably muscular physique. Hunter, thickly hung and preppy-handsome, is a good match for him. They share passionate kisses, 69 action and a couple of fuck positions sprawled across a black couch. They're quite a sight for fans of muscular young men in tight white briefs.
Elsewhere, Sean Zevran and Gabriel Cross make for an eye-catching hookup. Zevran is bald and mocha-skinned with a spectacular physique and gorgeous cock, while Cross is post-twink adorable with a smooth, compact build and a bubble butt that Zevran dives into with gusto, first with his tongue and then grinding deep with his boner. Later, Cross returns, as a topman, for more action with model-handsome DVD cover model Bruno Bernal. He's a solid, appealing performer in that role, but Cross clearly responded perfectly to Zevran's voracious appetites.
Synopsis:
Beams of sunlight beat down and sweat pours off these hot, horned up studs. They're 'Heated' and there's only one way for them to escape their burning desires: uninhibited steamy sex. Director Nick Foxx and this selection of studs keep the juices flowing in 'Heated, Part Two'. Hot weather + hot bodies + hot passions equals more than the sum of their glistening parts. Not even a dip in the pool cools the hot passions brewing between Chris Bines and Scott Riley. The contrast of smooth/hairy, tatted/uninked and blond/brunet ends with a fantastic oral cumshot. Jack Hunter can't resist touching himself when Addison Graham shares the shower. Jack wants to suck and Addison wants to taste Jack's ass, so an oral showdown is the perfect path to a sticky ending. Sean Zevran and Gabriel Cross meet at the pool. The body language is unmistakable, and Sean knows the right combo of kissing, spanking, sucking, rimming and fucking to satisfy Gabriel. Jack Hunter sees Sebastian Kross cooling off in his tighty whities. Jack pounces, and Sebastian can't resist. Full-body contact, sucking and rimming precedes a multiple-position fuck with crossfire orgasms. Gabriel Cross and Bruno Bernal share a toast. The bubbly serves a dual purpose as beverage and lube, as they abandon drinking for erotic pursuits. Gym-pumped pecs and bubble butts set the stage for a robust fuck that ends with two loads popping. 'Heated, Part Two' is the steamy conclusion of this two-part Falcon feature that will have your temperature soaring.