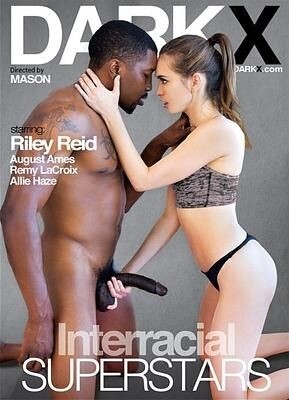 Massive black boners bang various white porn stars in this episodic gonzo from Dark X/Mile High, with all four ladies putting in impressive sperm-formances.
And, hey, you can never go wrong with our first superstar, the great August Ames (I'm still trying to figure out if those perfect tits have been augmented; and if they have been tampered with, what a fantastic job, indeed!). Here she plays a kept woman looking for tenderness, and ultimately getting it in the form of (!) the ever-brooding, hugely hung Rico Strong. Ames is a marvelous moaner, and we just love seeing her in any fuck position. Her face and ass are just as impressive as her chest. Only problem is, like the other three ladies, she spends a touch too much time hand-jobbing ebony cock when she could be suckin' away. Still, it's August Ames, so… enjoy!
Allie Haze gets more than a rubdown from her masseur, none other than monstrously hung Mandingo, with the latter knowing full well how to get this fine Caucasian lass off. Allie reminds me of Tori Black a bit. Remember that awesome piece of ass? But Haze is certainly a pleasure to view in her own right, getting that sugary (love it!) body slammed silly by superman-dingo.
In an almost identical bit of framing, Riley Reid receives a grand (as in wet and fucking wild) workout from her personal trainer, Isiah Maxwell. Reid is, as expected, very passionate here, displaying her usual perky attitude. Hell, even though Reid has been around for a while, she shows no signs of wear or jadedness. Good girl. Good fuck!
And we cunt-clude with the underrated Remy LaCroix, who shows her acting chops — and sucking/fucking talents — as she strikes a spontaneous, horny deal with a shady guy (Rico again) to whom her father owes a favor. LaCroix is probably the best cocksucker of the entire lot here, while she totally gets into her black-salami session with handsome Rico.
Can't wait to see who the next batch o' superstars will be in director Mason's second volume of this rockin' new black-on-white series!
Synopsis:
New studio Dark X is proud to announce Interracial Superstars, four vignettes featuring the most popular & sexy stars in adult indulging in their interracial fantasies. Riley Reid, Allie Haze, Remy LaCroix & August Ames are some of the most famous names in the industry today, and these ladies are just amazing in these intense interracial scenes. Directed by Mason, this release will satisfy any IR fan.