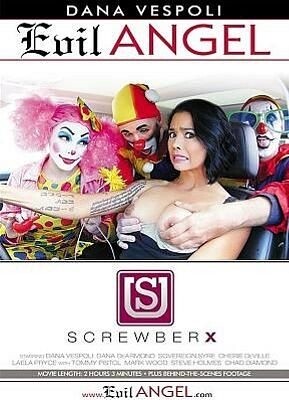 Cashing in on the Uber craze, performer/director Dana Vespoli gives us four creative scenarios of weirdoes (as either drivers or passengers) in her own "ScrewberX" version of the ridesharing service, while having it feature the usual Vespoli suspects.
We begin with Sovereign Syre playing a haughty bit of naughty who gets her just desserts from a freaky driver in the form of Steve Holmes. He slams it to her against the car on some lone and desolate road, somewhere in Southern California.
I was surprised that buttfuck queen Dana DeArmond didn't get her brown eye blasted out by geeky ScrewberX driver Tommy Pistol in the next episode; still, it's always wonderful seeing her juicy cheeks jiggle, as well as her ever-famished, highly generous mouth in action. Such a terrific slut!
Speaking of which, we have a pair of winning "Rubenesque" blonde ultra-whores in the form of Cherie DeVille and Laela Pryce, both really screwbering it to driver Chad Diamond in our next tale, with both luscious ladies being an absolute pleasure to witness in action, particularly in the doggie positions. And check out those sexy black fishnets on voluptuous Laela. Yeow!
Our final scene has Vespoli herself getting fucked silly — as in double penetrated — by a pair of male clowns (in the form of Steve Holmes and Mark Wood) and a female clown with strap-on (none other than Miss DeArmond herself). While it doesn't reach the depths (heights?) of Gregory Dark depravity, it's certainly an erotic interlude.
"ScrewberX" is horny enough to get you off — especially the scenes with DeArmond (not wearing clown makeup) and those two blonde hussies Cherie DeVille and Laela Pryce — not to mention it's eccentric enough to shake things up a bit.
Synopsis:
Inventive director Dana Vespoli's ScrewberX is a surreal a look at the potential for hard-core sex and comical weirdness in the world of ride sharing. Late for an acting audition, fleshy, pale Sovereign Syre gets a ride with goofy, inappropriately forward Steve Holmes. A breakdown costs her the appointment, but an outdoor fuck on a secluded mountaintop makes it up to her. With his big prick sticking out of his fly, he nails her over the car and then in the back seat. Beautiful, bitchy Hollywood exec Dana DeArmond gets stuck with bearded, new age bullshitter Tommy Pistol, but she gets interested when he mentions his high online rating for pussy eating. He licks her shaved gash and tongues her bunghole; she crams two fingers up her cunt as he fucks her. (Dana says his cum tastes very organic.) Nerdy, religious Chad Diamond likes to spread the word to his passengers, and wait'll he gets a load of outrageous porn stars Layla Price and Cherie DeVille. As he drives, the brash blondes put bare tits and butts in his face, and the ladies give him a lesson in threesome sin. Appearing as a beautiful, new driver, the director finds passengers Dana DeArmond, Mark Wood and Steve Holmes in creepy circus clown regalia. Even as they work Dana V. in an airtight triple penetration, the three jesters never cease their silly stunts and clown capering.