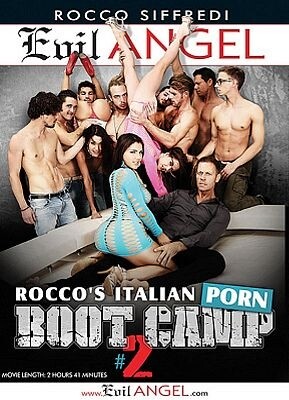 This Evil Angel title is basically a gangbang flick, featuring seven sexy-as-hell foreign ladies — from the Czech Republic, UK, Spain, Italy and Russia — getting reamed and creamed under the decadent tutelage of director/performer Rocco Siffredi. And, yes, all four scenes pretty much rock, the best being the first and last gang-slam sequences.
But the two sandwiched episodes have much to offer, too. Scene two is a straight-out gangbang of little 23-year-old Russian blonde Lola Taylor, getting throat fucked and anally probed by about seven guys on a private dock (somewhere in Europe), with her double penetration being a highlight. And episode three gives you a little BDSM (just a little), as beautiful Russian redhead Rossella Visconti and Rocco dominate 27-year-old blonde Czech Jenny Smart (masks, ropes and hot wax shenanigans are included), before Rocco ass-fucks Visconti, four guys ball Jenny and then Rocco takes the two ladies for himself. Good stuffings.
But we save the best for last… and to start things off. That is, scene one is a combined brace of gangbangs, featuring Russian redhead Eva Berger and the gorgeous Ms. Visconti, both of 'em getting the treatment from about eight guys. Berger has an off-kilter attractiveness heightened by her deep and horny sexual prowess, at one point greedily eating Visconti's sweet anus as she's anal-trained by the goons. And the final scene has British Samantha Bentley, 28; Italian Valentina Nappi, 25; and Spanish Samia Duarte, 28; with Bentley and Duarte taking on the lion's share of eight guys, while ass-fuck princess Nappi is, unbelievably, not doing anal here, limiting herself to about three guys. Duarte's anal train and ultimate double penetration is definitely a movie showstopper, with the deadly bitch panting and groaning in her native Spanish tongue, while Bentley gets her butthole seriously drilled, as well.
Other than the fact that Nappi doesn't get her juicy ass plugged and a second camera would've been handy in the same final Bentley/Nappi/Duarte multiple-fuck tryst (seeing as Bentley's smokin' gangbang has less relative coverage), "Rocco's Italian Porn Boot Camp 2" does not disappoint.
Synopsis:
At the estate of porn legend Rocco Siffredi, several aspiring studs (and a couple of more experienced cocksmen) assemble for a crash course in anal mayhem and nasty gang bang etiquette. Their maneuvers focus on an international cast of gorgeous young ladies with no sexual inhibitions. "Rocco's Italian Porn Boot Camp #2" is where the next generation of ravishers trains for ruthless face fucking, erotic discipline and double penetration. The drilling never stops! Eva Berger whips the boys into shape, setting them loose on petite Rossella Visconti. This class soon becomes a wild anal orgy, with both beautiful women sucking ass-to-mouth and swallowing multiple loads! Gorgeous blonde referee Lola Taylor seduces some volleyball players. She takes a pounding in every hole, followed by a bukkake-style facial shower. Rossella and skinny "nun" Jenny Smart play with clothespins, hot wax, milk enemas and a nasty anal train. Samia Duarte, Valentina Nappi and Samantha Bentley take on eight cocks, getting their hungry faces splattered with jizz.