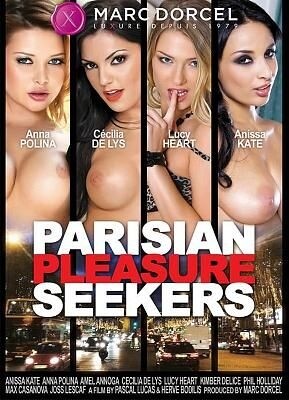 Four friends in Paris have a girls' night out at a sex club. Anissa Kate is an affluent housewife, Anna Polina a doctor, Cecilia DeLys a lawyer and Lucy Heart a visiting Russian. All are gorgeous and very, very horny, and they enjoy being together. Anissa's husband (Pascal St. James) warms her up that afternoon by hiring a stud to bang her and join them in an anal threeway.
In the taxi, the girls tease the driver and Anna gives him a loving blowjob, as the others click photos from the back seat. At the club they have a night of debauched, multi-partner sex, first watching as Amel Annoga blows a big black dude, then takes him in the ass. In another room Cecilia runs into an old flame (Phil Holliday) and starts her own gangbang with him and two others.
Then, they all go to an even wilder sex club where a mass orgy happens with them, some other women and lots of men. Lucy, the Russian chick, takes on three dudes, one each in mouth, pussy and ass. Afterwards the girls are tired but happy and Anna, the doctor, goes quietly home to her sleeping husband — a nice touch.
Synopsis:
Although at first sight Anna, Cecilia, Lucy and Anissa may look like any of the other beautiful young Parisian girls around, they have some very particular nocturnal habits. In fact, once a week the four bosom buddies go out together to satisfy their incredible fantasies in the hottest spots in Paris. Tonight they invite you to spend an extraordinary night of bourgeois debauchery and depravity with them. It promises to be a night like you have never experienced before...