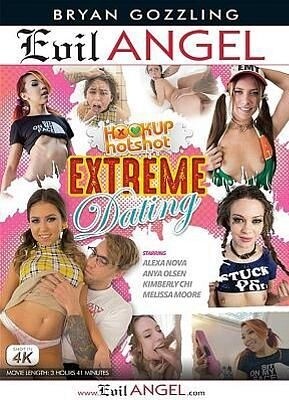 It's rough sex aplenty, and even a little anal, in this Evil Angel gonzo from new-cummer Bryan Gozzling, who most certainly picks a fine batch of pretty little lasses to seriously, but quite happily, put them through the porn paces.
We open with Melissa Moore, a gorgeous thing who not only surprises me by really taking cock as far back into her throat as possible, but also is a true trooper in that she allows geek chic Gozzling to slam her any which way, even while his foot is stepping on her head in the doggie position. The very thin storyline at the start of each episode is that the girls hookup with "bad boy" Bryan through some kinda dating site, texting the tattooed beau for his address before showing up and getting both reamed and creamed.
Alexa Nova is a spinner who's an absolute joy to behold — and quite possibly my favorite sweetie of the slot lot here — while she's also the only babe to get her butthole busted proper by our boy Bryan. And just look at all of the spittle this awesome chick produces while blowing Gozzling's goose, who also turns each lady upside down and wildly cock-plunges her tonsils. Love the glasses on Alexa, too. Nice touch. And I love the fact that Gozzling makes each courageous girl, at some gnarly point, eat his farts. Whew!
Anya Olsen also possesses a killer body, and she, like the other gals, is more than willing to please the far from gentlemanly Gozzling, as she gets Bryan's porn sofa wet from her pummeled pussy and maxed-out-with-man-meat mouth.
Lastly, we have Asian babe Kimberly Chi, who's also fun to watch as Gozzling goes to town on her, with Chi really seeming to adore deepthroating dick, with not only her mouth but her sweet cunt. And, yes, I do hope to see more of this darling little tart, in perhaps an anal scene or two...
"Extreme Dating" is a strong title with plenty of animated, down-and-dirty sex, so grab some lube and get to whackin'!
Synopsis:
Hot chicks don't go to bars anymore looking to get laid, they go on the Internet. Finding girls who just wanna fuck is easier than ever, and Bryan finds the nastiest ones! Watch gorgeous teen Melissa Moore get turned into a sloppy mess. Adorable Alexa Nova gets her poor asshole stretched to the very limit. Blue-eyed Anya Olsen gets choke-fucked and squirts all over the floor. Finally, cute Asian Kimberly Chi gets tossed around the room. It's dating, taken to the extreme!