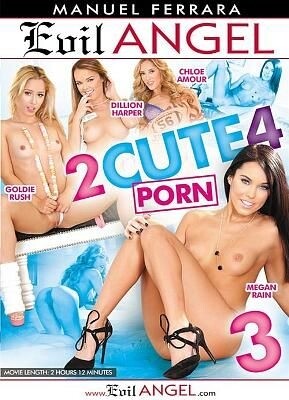 Manuel Ferrara plugs the holes of attractive young ladies ranging from 19 to 24 years of age in this solid Evil Angel gonzo, with high points going to cute-as-a-button Goldie Rush and nasty-as-always Megan Rain.
Goldie Rush is a fair-skinned, wiry, lush-butted 20-year-old Hispanic with small tits and blonde hair who's simply a thrill to behold, even when she's just looking into the camera and not even sucking or sitting on cock, which she does magnificently, by the way. Each scene has Manuel doing a very brief (thankfully) chat with the little tarts before (even more thankfully) he (unseen to his viewers) hands the camera over to some other schmoe to shoot a professionally captured scene. Goldie is relatively new to the biz, looking oh so fresh and curious; sometimes with that deer-in-the-headlights look which can be (and in Goldie's case is!) quite charming. I wanna see more of this beauty!
And Megan Rain… well, naturally, she takes it up the ass, and it's a fine way, indeed, to end Ferrara's relatively easy-going (as in, not too over-the-top) sexcapades, with 19-year-old Rain seeming to be the only girl who really does lick Manny's manhole, proving that she deserves a medal for her heroic effarts, er, efforts. I felt a bit cheated, though, with Megan in the doggie position — it's way too short — but she makes up for such carnal brevity by energetically riding Ferrara's fudgsicle cowgirl style. And, no, I can't seem to get enough of this pretty 'n' perverted pixie!
And let's not forget Chloe Amour and Dillion Harper; a brace of 24-year-old babes looking far younger than their actual ages, with both ladies providing incredible bodies and potent sucking and fucking. I particularly loved seeing Harper bent over, her eyes ecstatically disappearing into her head as our man Manny really goes to town with those meaty butt cheeks.
Despite its lighthearted title, "2 Cute 4 Porn 3" gives you a foursome of fine-assed foxes, all appearing to sincerely enjoy their work — and let's see the darling and succulent Goldie Rush in more scenes!
Synopsis:
In 2 Cute 4 Porn 3, director/stud Manuel Ferrara shows the orgasmic sessions he shares with natural-bodied, adorably girly young porn babes. Long-legged Chloe Amour talks about her sexuality, admitting her first blow job was in a porn scene! In POV-style footage, she sucks Manuel's huge cock, making eye contact with the camera, and her long hair and little titties bounce as she rides dick. Fun loving Dillion Harper smiles through her entire scene. She flicks her creamy clit and Manuel fingers her butthole as they fuck. In frilly cotton panties, blonde Goldie Rush sucks on her candy necklace. Manuel's meat looks too big for the tiny girl, but her round butt bounces and rolls as she takes it, whimpering in bliss. He manhandles and spanks her. Petite Megan Rain says she got her blow job skills from lots of porn watching and practice. She sucks balls and deeply tongues Manuel's bunghole. He pries his prick up her tight ass and hammers her into anal delirium. Her makeup is already trashed when hot semen streams hose down her face, and she laps up the mess.