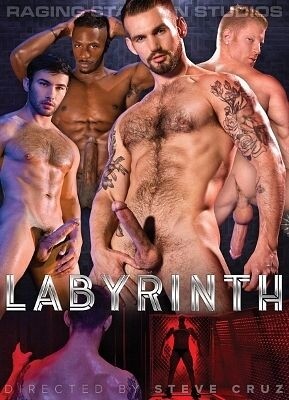 Director Steve Cruz constructs a simple, stylish exploration of carnal desires in a labyrinth with aggressive sexplay around every corner. Chris Harder and Raging Stallion Studios exclusives Johnny V and Sean Zevran are standouts.
The maze is lit in simple reds and blues with a chain link fence and a few large wooden blocks, all the better to facilitate man-on-man sexplay. Harder, in shades and black zippered leather shorts, is the protagonist of sorts and he first observes Dorian Ferro on his knees devouring Zevran's cock. Cruz typically highlights aggressive, spit-soaked cocksucking in his films and that is the case here. Bald, matinee-idol-gorgeous Zevran's spectacular physique is showcased in a skintight black mesh bodysuit. The eager Ferro doesn't say much beyond groans and a satisfied moan when Zevran dumps a load onto his handsome features.
Harder services three cocks through several gloryholes, one of which belongs to the muscular blond Johnny V, who is all body and an eager, vocal sex partner. They get right to assplay and Harder, egged on by his partner, is a piledriving top. They flip-fuck and then briefly share a double-headed dildo. Both contribute splattery cumshots.
Michael Thomas is given an eye-catching entrance silhouetted in red against a chain-link fence with smoke billowing behind him. He's a tall, bald, mocha-skinned wall of muscle, shaved hairless. He and Harder share a passionate, fiery makeout session and Harder seems particularly turned on. Their fucking, however, is serviceable; Thomas may be more orally oriented. Nevertheless, Harder's cumshot is thick and voluminous.
Derek Maxum, lean and wiry with a thick, imposing cock, first appears in shadow with minotaur horns as some kind of fever dream of Johnny V. Maxum eagerly feasts on V's round muscle butt and the power bottom impressively dominates when sucking down Maxum's log of a cock and when they switch to fucking. Johnny V's abundant charisma and sexual mojo is on full display, but as in the previous scene, there is more heat with the assplay and blowjobs.
Cruz highlights aspects of the sexcapades with numerous overhead shots, including a brief opening tracking shot, and smooth editing keeps the action flowing quickly.
Synopsis:
Visions of sexual beasts and carnal temptations fill the 'Labyrinth'. Men wearing little or nothing stalk these halls in search of fulfilling their hottest fantasies. A seemingly endless long tunnel only illuminated by a red glow is the 'Labyrinth' of desire that is reminiscent of a mythological sex club, where visions of a Minotaur compete with horned up flesh in need of release. Dorian Ferro knows if he displays his ass, men will want it ... and he wants to be taken. Sean Zevran, in a Slick It Up mesh body suit that revels every cut of his awesome physique, is that guy. Chris Harder wanders the Labyrinth in sunglasses and black shorts with front and back zippers. His first stop is a glory hole where he services three cocks at once. He chooses one man, Johnny V, for an exhibitionistic display of flip-fucking with a double-headed dildo chaser. Then Chris Harder is chosen by Michael Thomas, a mountain of smooth, dark muscle. Michael knows how to work that rear zipper for the maximum benefit of his tongue and cock. Johnny V, terrified by a vision of the Minotaur, retreats to a room of cages, where his tormentor drops the horns and reveals his other horn: three handfuls of hard, black cock that needs release. Johnny submits his hole to an exhaustive fuck that paints the set white with jizz. The quest for a wetter, harder orgasm takes many forms. Enter the 'Labyrinth', to find your way to satisfaction.