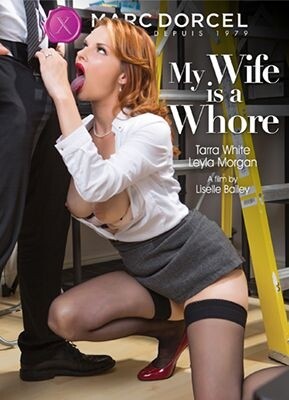 This French feature is a showcase for Tarra White. With a gorgeous face, voluptuous body, natural DD breasts and a bottomless appetite for sex, especially anal, she's one of the great Europorn stars. Here she's the career-woman wife of a wealthy Parisian whose existence is devoted to fucking, anytime, anywhere. Tarra gives her all in six of seven sex scenes.
After waking herself up with a new Magic Wand-style, she fucks her husband (Pascal White), then goes to work at her swanky office where she insists that a co-worker buttfuck her in a storage room. After work, when she picks up her car, she can't resist giving a quickie mouth and handjob to repairman Mike Angelo.
Her nubile stepdaughter (Leyla Morgan) screws her boyfriend (Luke Hardy), but he seems more attracted to stepmom. Tarra wastes no time seducing him and his buddy Max Deeds, and a rousing double penetration ensues. Later she tells Leyla there are some things her husband just can't give her — like the five-man gangbang she arranges at the auto repair shop. Blowbang, pussy, anal, lots of semen — Tarra is really in her element. She comes across not as a whore but as a highly sexualized liberated woman. Fun fact — director Liselle Bailey plays Tarra's BFF, a non-sex role.
Synopsis:
Although Tarra is a married woman, she has a totally wild sex life.
Completely insatiable when it comes to sex, Tarra cannot be satisfied by only one man. She needs much more! From her colleagues at the office, to local mechanics and friends of her stepdaughter, Tarra is constantly using her sex appeal and incredible body to seduce every man that crosses her path.
With her husband having failed to satisfy her this morning, Tarra now has her heart set on her colleague, the handsome Juan. This Spanish stallion will not resist her advances for long, and will soon be treating her to some wild anal sex in the photocopying room.