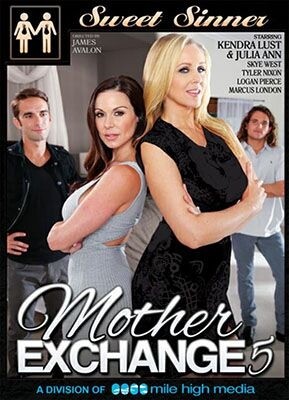 Dueling moms are the theme of this couples-friendly release from the ace director-writer team of James Avalon and Melissa Monet. Spectacularly endowed super-MILFs Kendra Lust and Julia Ann play deadly enemies. Kendra has it in for Julia because she snagged as a husband the rich guy (Marcus London) she wanted for herself. She takes a measure of revenge by seducing Julia's handsome young son (Logan Pierce).
Before that, though, Logan has frisky fun with his same-age girlfriend, Skye West. After having sweet young sex with her — nice but kind of tame — he's all too eager to get it on with Kendra. She practically smothers him with her huge knockers.
Then, still bent on malice, Kendra sneaks into Julia's mansion and seduces hubby Marcus, then sends her a photo of the two of them together. Julia is devastated, but she gets consolation from Kendra's son (Tyler Nixon) who knows his mom's a meanie and feels sorry for her — as well as really turned on. She gives him a loving blowjob as he feasts on her fabulous boobs. Julia does her usual great sex performance and takes acting honors, too, although the whole cast, under Avalon's steady direction, is excellent.
Synopsis:
Taylor and Harper have been bitter rivals for years. When Harper secretly elopes to marry her ridiculously rich boyfriend Eric, Taylor has no choice but to try and seduce him, after all, she saw him first. Taylor's revenge should come easily since she has inside help from Harper's pretentious and entitled asshole of a son Andrew. Andrew has an equally conniving girlfriend Ryan who is only in it for the dollar signs she sees her future mother in law raking in. On the other side of the coin is Harper and boy is she pissed! How dare that bitch go after her new, rich husband! What's a girl to do? Starring Julia Ann and Kendra Lust as the rival moms, Logan Pierce and Tyler Nixon as the sons, Skye West as the girlfriend and Marcus London as the rich husband.