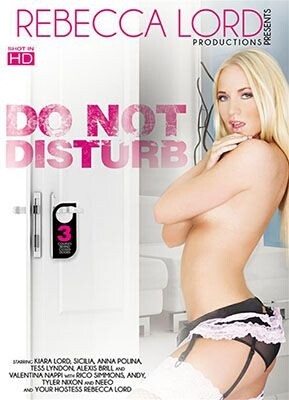 European productions are best known for their slick, stylized porn titles with amazing editing, photography, beautiful women, and hard sex. Well, three out of four ain't bad. Rebecca Lord introduces each scene in a non-sex role, and while the sex is tamer than we'd like, for fans of the previous volumes, and more big-budget European porn that includes exotic locales and ladies to match the scenery, you might think it's worth taking a look.
Other than Valentina Nappi, none of the ladies here have much of a name outside of Europe but if you like looking at beautiful women, "Do Not Disturb 3" has plenty of that in stock. Valentina is relegated to a nice and soft (for Valentina at least) scene in a laundromat that is above a notch watching clothes dry. Not allowed to show off her true sexual energy, the scene just feels bland and too choreographed, leading to its inorganic feel.
In the rest of the title, while there are strokable moments, they will just leave you feeling more wilted than stiff. As is the case with most big budget European titles, there is just a bit too much sexual choreography for this reviewer's taste, but when the performers were allowed to let loose, that's when the sizzle levels increased. Unfortunately, it goes down once they go back to following a script.
Perhaps it's my American sensibilities about porn, but harder is always better if you want to get that money from raincoaters. Couples may find enough eroticism here to make their night romantic, but I'd pass on this. There is better and harder European stuff out there you can stroke it too.
Synopsis:
Experience what happens behind closed doors when horny couples take their fucking to a whole new level and go at one another in public areas without fear. The idea of everyone watching their secret night life out in the open is enough to send these couples wild.