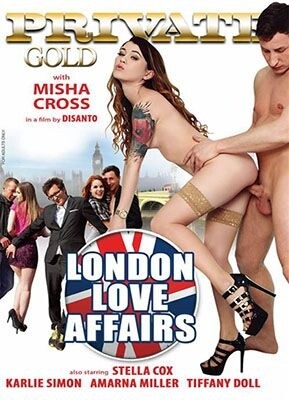 As the title states, these Private "love affairs" take place in London, as three visiting older German pervs pork babes from Poland, Italy, France, Spain and, yes, England, with the results being spicy enough for horndogs, yet still (if such a word can be used in the context of porn) tasteful enough for couples.
All five scenes here, by the way, have something to recommend them, mostly by way of the sexy female performers revealing their slutty talents. Gorgeous Polish princess Misha Cross, 26, doesn't do any anal in her episode with Jason Steel. Still, it's Misha Cross, one of the most gorgeous bitches in porn, and putting in, as usual, a passionate performance worth catching.
Next, luscious Italian vixen Stella Cox, 25, provides the movie's highlight, getting happily hammered by both Conny Dachs and Fash (what a name). Fash, in fact, is the lucky prick who gets to slam Stella's shithole. And, boy, is it an extreme pleasure watching a scrumptious piece of fair-skinned, big-titted, all-natural ass like Stella at work, even if (with two kraut pricks wagging at her) she doesn't offer up a DP.
Other whackworthy episodes follow… Englander Karlie Simon, 28 (and not looking at all like a younger version of the famous pop star), puts in a quiet, intense scene with Conny. French babe Tiffany Doll, 29, even lacking makeup, looks terrific, taking it up the ass from, yet again, Mr. Cornhole himself "Fash" and providing the deepest, nastiest, best blowjob in the movie. And, lastly, Jason fills up big-bottomed Amarna Miller, 25, from Spain, with Miller always looking perky and visibly elated to suck dick and get seriously fucked by same.
Add excellent videography to the mix, along with some picturesque shots of London Town, and, with all of these fine Euro tarts, you have a winning porn mixture, even though I felt the ending was a bit abrupt.
Synopsis:
In London, all bets are off when it comes down to fucking. These British sluts will cheat, lie and reason just to get laid. Is there anything wrong with that. NOT AT ALL!!