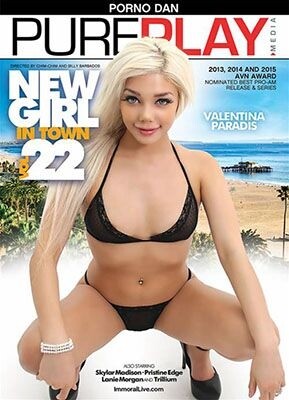 Veteran deflowerer Porno Dan busts some new porn cherries, all first seen on his website ImmoralLive.com. He doesn't waste time with chitchat or so-called interviews, just gets right to the sex. With cute redhead Skylar Madison, he sticks in his dick and lets her use a Magic Wand-style vibe on her clit. Valentina Paradis is a fresh and pretty blonde. "You have an amazing body," he says, as he feels her up. True. As in most of the scenes, there's not much in the way of position changes or camera angles.
Dark-haired Lanie Morgan has an amazing big butt and natural big tits. Dan brings in another guy to fuck her, but she doesn't seem all that turned on. Dan introduces blonde Trillium to Scott Lyons to fuck. She's cute, petite, a good cocksucker. Scott fucks her efficiently in several positions. The final scene has Dan balling the intriguingly named Pristine Edge, another cutie. He treats her to some pussy-licking and she rides him cowgirl, doing most of the fucking herself. She seems to have a lot more fun than the other girls in this collection.
Synopsis:
The new girl in town is up for anything.... literally!! She's young, super fun, likes your cock and the idea of it inside of her. Fuck this new girl hard and show her why she's gonna keep cumming to you for days to come!!