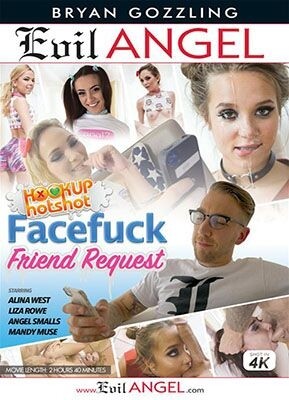 In his first release for Evil Angel, director Bryan "Hookup Hotshot" Gozzling manhandles barely legal girls with dominant ferocity and finesse, in a standout title that will thrill even the most seasoned porn aficionados.
After groping the sultry Alina West in an alleyway, Gozzling takes her back to his place, where she shows off her bejeweled butt plug. He then unleashes a black vibe on her ass, as she squeals with glee. Alina shows her gratitude by taking his cock in her mouth and he grabs her hair, forcing her to deepthroat him, before unloading generously on her innocent face. Gozzling dominates her curvaceous ass roughly, sending her into a frenzy of howling. The camera stays close enough to make the sex visceral and "in your face," yet far enough away to enjoy full-bodied views of Alina's perfectly petite and perky form. Dynamic angles ensure you won't miss an inch of Gozzling stuffing Alina, while keeping the action fresh and fluid.
Liza Rowe delivers a more "girl next door" level of enthusiasm, moaning and fluttering her eyes delightedly as Gozzling starts things off with fingerbanging. Her knee-high black socks, red jersey and collared necklace play up the demure bad girl image perfectly. She gets soaking wet and Gozzling guides her head through a more subdued blowjob than the thrashing Alina was subjected to. While he doesn't exactly take it easy on Liza, the contrasting intensity is a good change of pace, making for a more intimate session after such an explosive (in more ways than one) opening scene. Liza eventually takes him fully inside her cooze, as Gozzling alternates between BJs and straight up sex. The emphasis on pussy play after Alina's anal loving allows the second scene to stand firmly apart.
Devilishly small Angel Smalls comes next, dressed in jammies covered with little angelic cherubs, as she gets fingered in both holes and fills her pouty mouth with Gozzling's member. She manages to perform both with the submissive softness of Liza and the rowdy noisiness of Alina, bending nimbly in accordance with Gozzling's nonverbal commands. The bright lighting plays off her skin beautifully throughout, bathing the already steamy scene in a dreamy haze. Angel finishes Gozzling off by simultaneously tossing his salad and tugging him with a handjob, then services him with one final BJ.
Last, but certainly not least, Mandy Muse permits Gozzling to massage her vadge and pull a gemmed buttplug out of her. He swiftly sends her into an eye-rolling state of bliss with G-spot fingerplay that leads to a middle finger or two up her brown eye. She gets her hair pulled while deepthroating him, until he decides to invade her with fierce anal sex. Mandy grimaces and blushes like a happy masochist.
Whether you're into anal, rough sex, pussy play, or even just nubile porn, Facefuck Friend Request is one friend request you should definitely accept!
Synopsis:
The Internet is a wonderful place. It's full of young girls on social media and dating sites who just wanna hook up. What's better than finding hot chicks who are down to fuck, all from the comfort of your own home? Watch Bryan Gozzling find the cutest girls on the Internet and fuck 'em in every hole. They start off looking sweet and innocent but they don't end up that way. Join Bryan and watch as Internet dating finally starts to pay off!