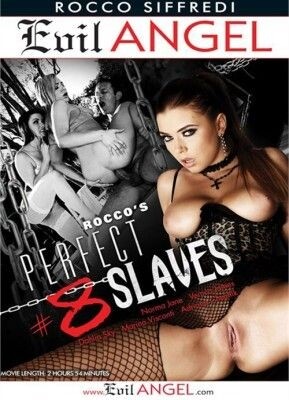 Performer/director Rocco Siffredi has been around for a while. And, I hate to say it, but we sometimes take him for granted. That's how I felt when I watched "Perfect Slaves #8," seeing how truly filthy it was from beginning to end — and talk about a bunch of great ENDS, particularly the one on Russian beauty (and, for obvious reasons, the DVD cover girl of PS8) Marina Visconti. Rocco rocks, baby! And with PS8, good ol' Roc gives you a mix of outstanding Euro and American tramps that most definitely live up to the highly discriminating Evil Angel stamp of approv-hole.
French fox Norma Jane, for one, is a fine opening (and how!) to this truly nasty title. Actually, we don't like the fact that she's wearing some New Orleans type of mask over her eyes whilst getting tonsil-ripped, cunt-blasted, and anus-annihilated by three Euro trashers, i.e., bald (and nonstop French-babbling) Mike Angelo, goofy-looking Markus Tynai, and Quentin Tarantino doppelganger Ian Scott (or is it the other way 'round?). Plenty of DPs here, too, including standing, doggie and reverse cowgirl. Norma is up for it all! Love her.
Next we have two of my own favorite American porn starlets, Dahlia Sky and Veruca James, with the ever-lucky Rocco getting 'em both to himself, after he catches the trespassing babes eating some dessert he'd set up for a female guest in his backyard and, in turn, has the sexy little lassies pay for their carelessness — and how! Plenty of anal here, as well as ATOGM, and female cunt-/ass-eating. Dahlia and Veruca are SUCH magnificent trollops, they were simply born for this kind of submissive depravity, which is what the entire "Perfect Slaves" series is really all about, right?
And then there's the fantastic Marina Visconti, who, with her fine ass and perfect set of big all-natural boobs, gets ripped apart by the new Martin and Lewis of porn, Mike Angelo and Ian Scott (or is it Quentin Tarantino?). Talk about a topnotch scene! Wearing a wildly alluring fishnet outfit, Russian hottie Visconti can't get enough abuse from these two ruffians, who quickly proceed to anal-yze her, as well as heavily double penetrate the sweetie, and, of course, feed her a non-stop course of her own crap via their over-worked spoon-like pricks. And check out how Visconti's meaty butt cheeks wobble every which way in the doggie and cowgirl positions. She's a keeper!
Lastly, ultra whore Adriana Chechik takes on James Deen in an outdoor anal-a-thon (in Rocco's highly functional backyard), with some nice pooper penetrating action and amazing cocksucking, care of one of America's finest fuckholes, Miss Chechik (what? — you thought we were talking about Squire Deen?!… nah, that's a different movie). It's a perfectly vile (yeah!) ending to a perfectly vulgar (YEAH!) gonzo.
Rocco's Perfect Slaves #8 offers the great X-pectations of which Evil Angel is all about: marvelous-looking U.S. and European bitches getting the living shit banged out of 'em. Simple as pie. Enjoy. And, yo Roc — thanks, dude.
Synopsis:
Whether fucking or topping from behind the camera, dominant director Rocco Siffredi drives submissive beauties through exotic rough sex scenarios. He's got lustfully pliable subjects in 'Rocco's Perfect Slaves #8'. Longhaired Norma Jane wants to watch a porn shoot, and Rocco has a surprise: she's the star! Hung studs Yanick Shaft, Mike Angelo and Markus Dupree lift her bodily for a nasty double penetration. Big cock sodomy makes her pussy squirt! She rims man ass, sucks dick ass-to-mouth and takes a double-anal pounding! Natural-bodied Veruca James and Dahlia Sky sneak into Rocco's back yard and smear each other in whipped cream. Rocco spritzes Champagne up their asses so they can squirt each other's face! Each gets thoroughly sodomized before Rocco tosses the trespassers into the pool. Yanick and Mike bind naturally voluptuous beauty Marina Visconti in chains and bondage tape, pummel her tits, cock-whip her face and double penetrate her. She drools two loads onto her big boobs. Dominant stud James Deen manhandles flashy brunette Adriana Chechik. Spit flows and Adriana wails as he grips her head for a deep-throat face fuck. The stud porks the slut's bunghole with her limber legs cranked way back behind her ears, and he tugs a stocking over her face as he sodomizes her.