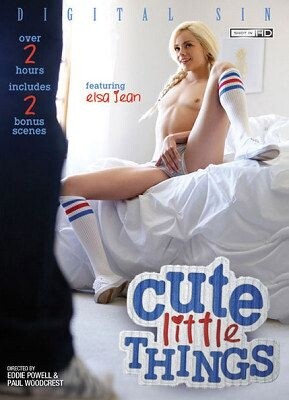 Four porn newcomers to watch get naked and nasty in Digital Sin's latest foray into the young-girl market. Showcased in simple vignettes, each of the nubile newbies is a thing of beauty with the kind of potential to go far in the business in the coming years.
It's no mistake directors Eddie Powell and Paul Woodcrest chose Elsa Jean for the box cover as this blonde stunner is as cute as any chick to step off the bus in Porn Valley in years.
Elsa masturbates near the window while watching Toni Ribas work in the front yard and then later in her living room. Then she lures him upstairs to the bedroom, where it doesn't take Ribas long to figure out what she wants. They hook up for a slammin' session that's easily worth the price of admission here.
Another blonde hottie, Naomi Woods, plays Tommy Pistol's sister's friend in an energetic boff in Scene Two.
Then in keeping with that theme, Jojo Kiss answers the door for Anthony Rosano, who rushed over to pick up her brother and drive him to work. When they can't find her brother, Kiss goes to work on Rosano's prick like a seasoned pro.
Last but not least, Penthouse Pet Jenna Reid shows up at Karlo Karrera's house wanting to play with his dog. But the dog isn't there, so Reid ends up in the bedroom playing with herself while Karrera showers. When he emerges, Reid tells him, "I want you to fuck me like you fuck your wife." It's a great line, and Karrera obliges, railing Reid in several positions.
Powell and Woodcrest knew what they had here, a quartet of mouth-watering up-and-comers that they simply couldn't go wrong shooting in any scenario. Suffice it to say their winning formula worked again.
Synopsis:
Tiny little panties are about to drop as these cute little things are looking to get naughty! JoJo Kiss, Elsa Jean, Jenna Reid and Naomi Woods are dripping wet and are ready to show how tight their darling little pussies are. These cute little things might look innocent, but they sure know how to bring it!