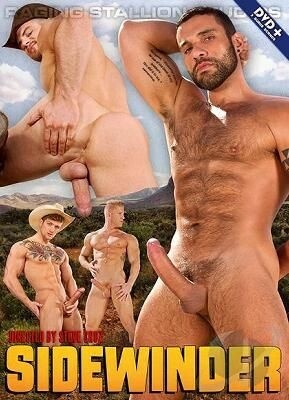 Let's hope Raging Stallion keeps Letterio Amadeo very busy. The Australian stud's big muscles are covered in tattoos and a healthy dose of fur, and he's got a big and thick uncut beauty. He exudes masculine energy, putting a spell on Sean Zevran in the opener. The taller Amadeo works Zevran masterfully, and you can just feel the energy emanating from the screen. "Fuck, you suck that cock so good! Swallow it! Take it all!" moans Amadeo as Zevran slurps it up, the alpha placing his hands on the back of the sucker's head as he stuffs his mouth. Zevran gets pounded, then comes that hot final shot — the two standing, arms around each other, as they stroke out their loads while the camera looks up at them.
Amadeo returns with Johnny V, whose chiseled, lighter skin makes a beautiful visual contrast to the top. After stacking firewood, the sweaty Amadeo takes an outdoor shower — water cascading down his hairy muscles as he strokes his beast, showing it off to Johnny V (and us). Johnny chokes on the cock before getting fucked, the two then giving facials to each other. Sebastian Kross rams Zevran, while Nick Sterling gets plowed by Armando De Armas. Director Steve Cruz does a masterful job here with setting a dry, hazy and erotic mood enhanced by the beauty of the desert.
Synopsis:
Like a `Sidewinder` a rattlesnake hypnotically moving through the sands of the desert looking for prey these snakes are waiting to strike and claim their prize: a fiery fuck under the hot sun. With his cinematic eye and expert sexual direction, Hall of Famer Steve Cruz leads these six hung cowboys through the desert to an oasis of climax in `Sidewinder.` The blazing sand gets even hotter when Sean Zevran, who`s looking for rattlers, gets ahold of the thick, uncut 10-inch `Sidewinder` in Letterio Amadeo`s pants. Nick Sterling`s car breaks down in the middle of the scorching heat. Armando De Armas comes to Nick`s rescue, and Nick is happy to pay him for his assistance by taking Armando`s snake deep inside his sultry hole. Letterio Amadeo jacks his massive uncut serpent to tempt Johnny V into an outdoor shower, where Letterio seizes Johnny`s ripped body and slides into his hot ass. To avoid the heat Sebastian Kross and Sean Zevran race back to their retreat, but the action inside sets the temperatures skyrocketing when Sebastian delivers his hefty snake deep into Sean. Head out to the desert and find a pack of big, meaty `Sidewinder` that satisfies.