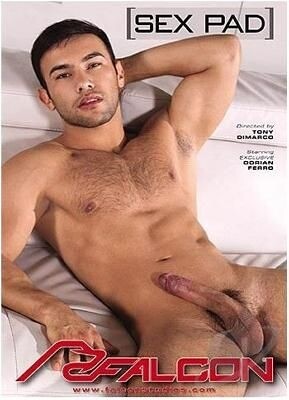 The "pay it forward" concept gets a twist from Tony Dimarco, who gets a lot of mileage out of an upscale high-rise condo with a great view. Big and beefy Austin Wolf shows tan and smooth Nicoli Cole who's boss, guiding the shorter stud down. Cole's head is pressed against the wall as he gets face fucked, Wolf putting his hand atop Cole's shaggy dark locks. Cole gasps for air and whips the dick on his face, Wolf calmly whispering to him ("Take it deep…good boy"). Wolf slurps on Cole's hole before fucking him ("That hit the spot?"), the bottom so excited and turned on that he lets out a big load early on. Wolf fucks him from behind, two more squirts closing it out in this fantastic generation-gap pairing.
Cole returns with Ryan Rose, who gets deep-throated before worshipping the bottom's ass, gripping Cole's jock cheeks before fucking him. Rose returns with dark and handsome Dorian Ferro, who shows off his great bottoming skills when he slides back and forth on Rose's cock, the top staying still as Ferro does the work. The stud also stays hard as he sits down on Rose and rides. Ferro then exchanges sucks with Colt Rivers (love that bush!), who gets fucked by buddy Tom Faulk (love that baseball cap, brah!) in the finale, a facial his reward.
Synopsis:
Welcome to the `Sex Pad`: an upscale high-rise apartment of discreet decadence, a sexual hideout where men go to hook up. They play it forward by passing the key onto their latest trick, so he can enjoy his next steamy, anonymous conquest there. Award winning director Tony Dimarco takes you into the `Sex Pad` and captures the uninhibited action filled with visions of hungry cocksuckers, power bottoms, and tops who know how to make guys beg for it. Key holder Austin Wolf sheds coat and tie to get nasty with co-worker Nicoli Cole. Austin`s massive, muscled physique and thick dick inspire Nicoli to assume any position that lets Austin fuck him deeper. Inheriting the key, wavy-haired Nicoli invites Ryan Rose up to the pad. Nicoli`s hot gymnast`s body calls for full body contact, deep penetration and massive cum shots. Handsome and masterful Ryan uses the key to bed Dorian Ferro, a stud whose ass makes any sexual encounter a quantum leap hotter. Dorian lures Colt Rivers to the pad for a blowjob swap with a stiff cum chaser. Colt snags longhaired, blond slacker Tom Faulk for the final tryst. Tom`s cock is completely consumed in every sense by supercharged bottom Colt. Get your key to the `Sex Pad` and watch see these six ripped studs let it all hang out and go wild.