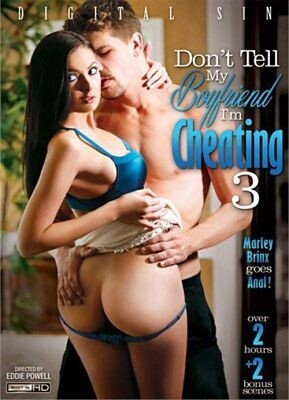 The formula here is simple: a hot girl unsatisfied with her boyfriend finds herself in a situation with another beefcake where she could potentially cheat. And to no one's surprise, she goes there every time.
While these little vignettes are anything but suspenseful since we all know the ending, it sure is fun getting there.
The setup of the opening scene is on the stiff side — no pun intended — as cover stunner Marley Brinx complains to Bruce Venture that her dude "always spends my money and always takes my car without asking."
Showing his tender side, Bruce says things like, "he's such as asshole. Why are you with that dude?"
Fortunately, no one came here for the snappy dialogue, so all is forgiven when Marley climbs on top of Bruce and he pulls her panties to the side for some eye-popping cowgirl. Then much to our delight, Brinx spreads wide for several anal positions before Bruce pops on her ass. The draw of this scene is watching Brinx get used to Venture's size in the initial stages.
The Liza Rowe scene benefits from mood lighting as the two get it on in a dimly lit encounter that still allows you to see all the necessary angles. Rowe has a great body and Ash gives her a creampie of sorts, erupting on her pussy in a sneaky good ending. There ought to be more of these kinds of finishes.
Mila Blaze nearly cracks a smile as she speaks her silly lines to Mick Blue, telling him that she likes her guys "more wealthy and European." Accents help, too, she adds.
Blue takes the hint and methodically pounds Blaze's pussy like an Energizer bunny in an slammin' session.
Last but not least, Allie Eve Knox is taking Spanish lessons from Toni Ribas, who recommends she practice more when she gets home to her boyfriend. But first Allie wants to learn some slang, so Ribas tells her how pretty she is. Flattery gets him everywhere as Knox works his pole until he cums on her face.
Synopsis:
These promiscuous girls just can't resist a big fat cock! When their boyfriends aren't around, you can bet Marley Brinx, Liza Rowe, Allie Eve Knox and Mila Blaze are still going to have somebody's cock in their box! We won't tell her boyfriend if you won't!