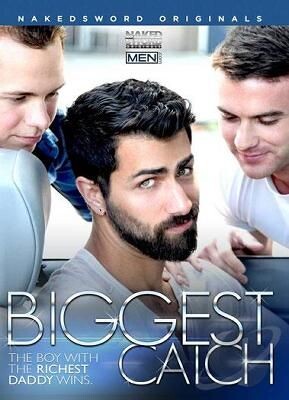 Three friends head to San Francisco to find some sugar daddies before they run out of money and have to head home to Vegas. JD Phoenix roams the sex club when Jackson Fillmore has this offer: "My daddy wants to watch us fuck…swallow my load and we'll see if you're worth it." Fillmore deep throats Phoenix's big beauty before they flip fuck. Cute Garrett Cooper heads to the trendiest bar to find a catch — and hits the jackpot with Andrew Stark, who steals the show with his dirty talk as he gets his big cock sucked: "Show me it going in your mouth. I wanna see it…there ya go. Use your hand, too…just your mouth. Look at that! It's fucking amazing!" (Yes, it is!) Stark then uses his beast to ram the bottom, whose hard cock bobs from side to side as he sits down on it. Cooper then gets a facial, a thick white wad dangling from his face.
Handsome Killian James gets two daddies. He licks all over chiseled Casey More's bod and sucks him. More then gets eaten — his hot tricep flexing as he supports himself on a chair — before fucking James (who licks his own wad off his hand). The finale finds James getting passionate with stunner Adam Ramzi, the two swapping cum with a wet kiss after Ramzi plows him.
Synopsis:
The #1 scenes that are burning up the web in the Hot House Backroom are now available to you on DVD! Volume 2 contains 6 sizzling-hot scenes starring your favorite Hot House Men and new Backroom discoveries with the biggest cocks on the planet! From San Francisco flats to gritty warehouse encounters, these Backroom Exclusive Videos will get you off again and again.