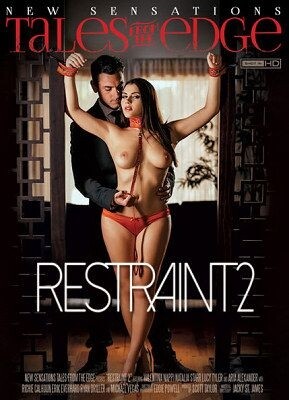 Call it "BDSM lite," as couples engage in sex wherein the females, at times, have their arms and/or wrists loosely bound whilst getting hammered by a batch of hard-charging fellows. The highlights of this New Sensations title are definitely the four female starlets themselves, all of 'em babes, as each lady delivers a passionate performance, if each fuckette is (due to the restrictive couples nature of this title) ironically 'restrained' from delivering far dirtier work.
But each lady is definitely worth checking out. And we're off to a fine start, indeed, with Valentina Nappi, as she finds a kinky lover (Ryan Driller) online, with the control-obsessed bastard thoroughly enjoying every inch of that juicy, 25-year-old, choice piece of direct-from-Italy ass. Next, extraordinarily shy 21-year-old Lucy Tyler (actually, looking more as if she's terrified out of her skull) meets Richie Calhoun in a coffee shop (totally resembling someone's living room!), later hooking up at his house, with Tyler really showing off that luscious body of hers, as Richie has his wanton way with this underrated fox.
Still a few babes to come (in more ways than one!)… Next, in her "Restraint 2" 'vignette,' very fetching, 22-year-old Polish import, Natalia Starr, has an on/off sexual relationship with some dude (in the shape of Michael Vegas), who eventually lays some pipe on the gorgeous, submissive bitch, very much reminding me of extreme babe Avy Scott (remember her?). And, finally, we have the very lovely and (of Irish-Mexican X-traction) exotic-looking 20-year-old, Texas-born, Aria Alexander, getting slightly (that's an understatement!) twisted with Erik Everhard, whom she looks upon as some kinda bondage guru or somethin'. Yeah, right. The guy knows how to poke her, I'll credit him there. Then again, it's Aria-fucking-Alexander. What fully functioning male hetero WOULDN'T know how to bang this beauty?!
Aside from its extremely humpable starlets, "Restraint 2" stands out due to the excellent — as in crisp, clear, close up — videography by both Paul Woodcrest and Eddie Powell.
"Restraint 2?" Get it for the fine-looking, truly tasty subs.
Synopsis:
After placing an ad in search of a dominant man, Valentina finds herself blindfolded and restrained in the home of a mysterious stranger. Although Aria's career demands that she be the one calling the shots, at home she willingly submits to the desires of her husband. Unable to find a man who understands the psychological power of BDSM sex, Natalia continually returns to her ex-boyfriend for a fix. Lucy embarks on an adventurous sexual encounter with a man she barely knows.