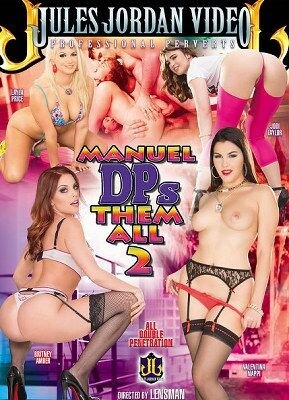 Unless the eponymous perv here — namely "Manuel, "short for "Manuel Ferrara" — has bizarrely sprouted a second schlong, he is NOT DPing (double penetrating) all four girls in this Jules Jordan Video X-travagonzo. Yes, as the title boasts, he "DPs them all." But not by himself. Our uncut 'n' wrinkled French baguette of Le Vallee (Monsieur Ferrara), that is, has ass-istance in the form of equally uncut, though Romanian-born, ultra cunt-hound Steve Holmes. Oh, and for the record, there ain't a bad scene in this froth flick, with the double schtupings of Nappi, Price, and (especially!) Taylor being absolute raunch revelations — meaning that they'll get you off in no time flat.
First off we're treated with 24-year-old Italian delight Valentina Nappi, whose luscious twat our man Manny initially penetrates, after which Little Stevie bangs her brownie, leading up to steamy DPs in the doggie and reverse-cowgirl positions. Nappi has a killer body (including amazing natural tits, the aforementioned succulent cunt, and one blindingly juicy ass), likes to kiss, and is up for…anything! At one point, she's even eating Manny farts, while Stevie is busy eating HER flatulence. Surely, the cheapest gas in California!
Layla Price, our second DP damsel, is a peroxide-blonde tramp — with big booty and choice natural tits — who performs her show like a total pro, from nasty blowjobs to, natch, volcanic double-dickings. And aside from the wonderfully foul noises she makes while deepthroating each pud, Layla really shows her talents when sitting on dick in the cowgirl position, her bounteous butt cheeks jiggling every which way. She also revels in getting smacked, choked, and (having her hair) yanked when getting double-hot-dogged doggie style.
As per usual, Stevie Boy loosens up the anus attached to slut #3, 29-year-old Britney Amber, before Manny Boy has at it, ultimately leading, mais oui, to both Euro trashers simultaneously slamming the nether holes of friendly sex freak Britney. At one point towards the end of this twisted tryst, each wog-cock takes on Amber-anus by himself, with both puds soon thereafter blasting boy-batter into her widely grinning mug.
Lastly, porn's ever-happy Jodi Taylor takes on S & M (Stevie & Manny) in probably the most spirited of all our double crammings. Taylor is just so perky, fun, and good-natured, we never get bored viewing the sweet bitch. And what about that too-meaty-for-words ASS?! — the one attached to Jodi, not Manny. Taylor also seems to SINCERELY get off, particularly when getting reamed in stereo. She similarly seems to enjoy both puds, not just (our star salami) Manny's manroot — as well as being wildly beside herself when getting her butt smacked and throat rattled. A marvelous 'n' bubbly sperm depository, Jodi provides a superb ending, indeed, to an all-around satisfying filth fest.
If none of these four DP whores — particularly Nappi, Amber, and (yes!) Taylor — makes you pop, you've obviously had a heart attack and, unexpectedly, gotten off the bus before, well, getting off. Pity. But keep watching — if you can — as "Manuel DPs Them All 2" is SO invigorating, it may, in fact, be the cure for the common corpse.
Synopsis:
It's a double penetration party for these hot ladies and all holes are going to be plugged rightfully so! Manuel Ferrera makes sure to use his big cock in all the right holes and the ladies love him for it. These sluts are in for a good time and every hole of theirs will get attention whether they like it or not!!