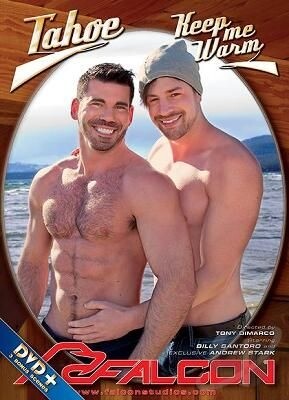 Tony Dimarco continues his homage to Falcon's iconic "The Other Side of Aspen" series with this Tahoe sequel. I continue to be obsessed with Andrew Stark's cock, the most stunning shaft there is. Check out the shot of it lined up against Billy Santoro's face: It's huge! Santoro stuffs it in his mouth, soon joined by Brenner Bolton for some great cock worship. Back and forth they go — taking their turn gulping it up (Santoro saying "Choke on it!" as Bolton takes it deep), tag teaming the shaft and balls, sucking it from both sides. Bolton then goes back and forth on his buds' shafts before stuffing both in his mouth (hot!) — a double facial his hot reward.
Stark also gets into a steamy scene with Sean Zevran, the two showing off their bods and cocks on opposite sides of the shower stall glass before Stark lets Zevran have it. Ricky Decker flashes his killer smile and cock for Jason Maddox, whose low hangers bounce as he gets sucked (and fucks Decker), while Nick Sterling pounds Brandon Moore atop a pool table. And the chiseled bods of Johnny V and Sebastian Kross may send fans into ab ecstasy in the finale, a sit-up contest leading to a great kiss before Johnny bends over. Three scenes from the original "Aspen" series are included as a bonus.
Synopsis:
Ten Falcon studs in Tahoe take a break from the slopes and "hole" up in their cabin to avoid the cold. Watch the ensuing sex that's as hot as the fireplace in Tahoe - Keep Me Warm.