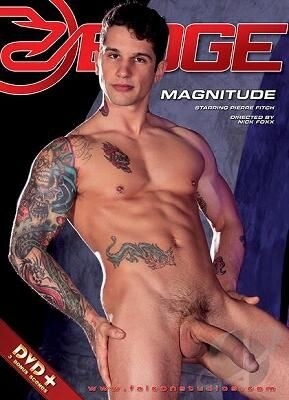 Looking at the star-studded cast, it might surprise fans that the show gets stolen by a seemingly less-acclaimed duo: Brenner Bolton and Austin Wolf, whose incendiary pairing ignites the screen. The chemistry between the two is instantly apparent: Bolton locks lips with the taller muscle man, grabs and smacks Wolf's chest, licks his pit and flexed bicep, works on his jockstrap bulge (Wolf's cock itching for an escape). It's a wonderful building of palpable tension, their passion exploding. Wolf's steel shaft is finally released, Bolton worshipping it as the steady soundtrack of his slurps make it even hotter (as do Wolf's whispers like "There ya go," "Suck it" and "All the way down"). A spit strand connects Bolton's face to Wolf's cock, gobs soon falling to the ground. It all leads up to an ass munching and fuck that leaves Bolton (and us) breathless, ending with Wolf feeding the bottom his own cum—then shooting on Bolton's face, the two sharing a kiss as their cum-soaked chins rub against each other. Phew!
Cover boy Pierre Fitch gets three scenes, getting plowed by Sebastian Kross and flip fucking with Brent Corrigan and Ryan Rose (where Fitch shows off his flexibility before delivering a facial); while Rose also flip fucks with the verbal Derek Atlas, whose lips (both sets) look awful nice wrapped around the stud's shaft.
Synopsis:
Superstar power is measured in Magnitude, and scorching hot fucking of this intensity has never been witnessed until now. This unbelievably erotic, supernova fuck-fest from director Nick Foxx features some of the brightest stars to ever appear in gay porn, and a meeting of mega-stars that's been a decade in the making. The Magnitude of your cum shots will be off the charts!