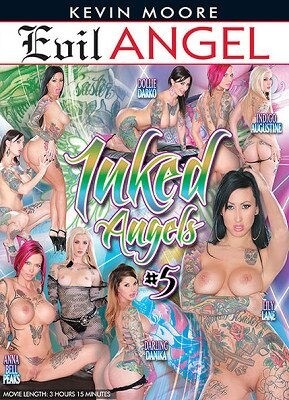 In this X-plosive Evil Angel gonzo, tattooed whores are interviewed, showing off and discussing their skin work, before flesh-covered needles REALLY pierce 'em, with anal super sluts Dollie Darko and Lily Lane providing the most nuclear sex sequence.
Simply put, our first tattooed tart, Darling Danika, is a sweet and warm fuck. She also has some of the best (probably THE best!) tat-artwork of all our so-called inked angels. Most of the designs making up Danica's sleeves are impressively detailed, vividly colored, largely non-gaudy, and just plain cool, including a neat Tiki and a far-out flamingo with top hat. More importantly, the woman herself is pretty, has a meaty ass (definitely a good thing!), appears a bit shy/sweet, gives a luxurious blowjob, and offers a slow, mellow, at times rapid, always deep fuck. And, yes, Darling does seem to live up to her name.
And while redheaded Anna Bell Peaks' tats are relatively less eye-popping (if more extensive and epic in size), she's, better still, a fine sloppy fuck. Anna's got a kinda punk look going on, which suits her. She's also a proper cocksucker who aims to please, while similarly being a highly compliant fuckhole who enjoys giving up control.
Our second-best inked (anal) whore scene features Indigo Augustine, looking great in a black fishnet top 'ÄĒ perfectly crowned/contrasted with her platinum blonde hair 'ÄĒ while also possessing a spinner'Äôs body, as well as great (natural) tits and delectable ass, and, quite visibly, adoring a cock that really pounds her anus silly. Indigo'Äôs tats are somewhat colorful but not too impressive. Actually, of all five girls, she has the least amount of 'Äėem. A good thing? Bad thing? Whatever. Again, it'Äôs the pink (and, in Indigo'Äôs case, the stink!) which we ultimately love, not the ink. And Indigo is not only a great cocksucker, but check out how juicy, tender, and flexible her butt gets while being cornholed doggie style. Tight and succulent, she'Äôs a perverted fair-skinned beauty who loves every inch of her hose hammering.
But it'Äôs the Dollie Darko/Lily Lane coupling which is the movie'Äôs true highlight. Both ladies have oodles of flashy tattoos, but of greater import, these two women are first-class cunt-suckers and outright narly fuckettes, pulling absolutely no punches. Aside from volcanic lesbo action, they both offer crazed anal sex; intense cocksucking; nasty ATOGMs; even outrageous ass-to-other-girl'Äôs-ASS, i.e., when Erik Everhard puts 'Äôem side-by-side in the spoon position, going back and forth between their hot, greedy, quivering anuses 'ÄĒ now THAT is dirty. These ladies are marvelously foul-mouthed, as well, like when Dollie coos about how much she loves Lily'Äôs 'Äúass juice,'ÄĚ while also calling it 'Äúswitch shit.'ÄĚ Damn! Actually, Dollie and Lily almost look like sisters, what with the similar long black hair, big tits, wild array of tats, and pronounced facial features. The way to tell 'Äôem apart, however, is the provocative butterfly-lady'Äôs face on Dollie'Äôs chest, just above her superb tits. Lily also has a more angular and long nose, (which we love!), as well as olive skin, wonderfully contrasting a more fair-skinned Dollie. Hell, there ain'Äôt NOTHING about these two sluts I don'Äôt love! They rock! And to end splatters on a high note, Dollie even licks up the excess cum. And ravenously, delightedly swallows it! I don'Äôt know which one I'Äôd rather fuck more, Dollie or Lily. And that bastard Everhard gets BOTH of 'Äėem! Life just isn'Äôt fair.
'ÄúInked Angels 5'ÄĚ is absolutely worth a look-see, especially since it contains one of the year'Äôs BEST scenes, i.e. the inferno-like three-way between dirty Dollie, lascivious Lily, and extra-lucky Erik.
Synopsis:
Fans of tattooed ladies appreciate their erotic openness and no-bullshit, in-your-face style. Kevin Moore's 'ÄúInked Angels #5'ÄĚ showcases a bevy of busty, illustrated lovelies with boundless craving for cock 'ÄĒ these girls advertise their slutty attitudes in the flesh! Buxom bitch Darling Danika receives some spanking ass worship and kneels to service her man'Äôs huge cock, squeezing it between her enormous, round hooters. After a hard pussy pounding, he splatters Danika'Äôs mouth and chest. Busty, bodacious strippers Dollie Darko and Lily Lane show off their classically illustrated flesh. They lick one another'Äôs sweet cunt until big-dicked Erik Everhard joins in for a nasty anal three-way. The ladies share a spermy kiss. Skinny, top-heavy, red-haired punkette Anna Bell Peaks, covered with gorgeous, intricate tattoos, treats Mr. Pete'Äôs throbbing boner to some eager sucking and fucking until he spurts goo onto her pretty face. Leggy, pale blonde Indigo Augustine shows off her natural body, then enjoys a butthole-wrecking anal session with ass-to-mouth flavor.