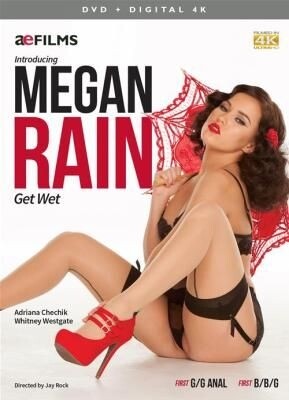 Megan Rain may only have been about four months into her porn career at the time of this movie, but one would never know it.
Rain, who is 18 in the movie, demonstrates the sexual prowess of a much more seasoned performer in this four-scene showcase that underlines what most industry insiders have known for a while: Megan has arrived.
One of porn's breakout newcomers of the year brings an undeniable sexual appetite and plenty of enthusiasm to the title that features Rain in confessional-style interviews in between her scenes that were all shot in 4K ultra high-definition.
The action features Rain in her first girl/girl anal with Adriana Chechik and first scene with two guys — Alex Jones and Daniel Hunter; she also enjoys a steamy tryst with Seth Gamble and a sensual session with Danny Mountain and Whitney Westgate.
We get a sense of Rain's bubbly personality from the beginning as she tells viewers, "I like to try everything once. I don't want to be on my deathbed wishing I did something. I am one of those free-spirited, 'why-not? people'"
She sets the tone during the opening tease, showing off her tight body as she gyrates slowly wearing a fishnet, crotchless, body stocking.
Then she crawls up on Jones and Hunter and dives into her first boy/boy/girl with a sexy determination to milk both these dudes dry.
After the scene, she called what she had just accomplished "fucking insane."
Next up Rain gets down with Seth Gamble on a luxurious patio overlooking the city of Los Angeles. They fuck as the sun is setting in a session that's quite easy on the eyes.
When asked about her hidden talent, the native of Palm Springs confesses she can play the flute from her one year in the school band. It turns out she also used to train in martial arts.
It's a quick cut right into the next sex sequence, one of the strongest of the bunch as Rain joins Westgate in applying a double b.j. to Mountain, who later stacks them and nails them side by side.
Before her big anal scene, she and Chechik share the interview spotlight.
"I'm more nervous to fuck you than you are to fuck me," Rain excitedly tells Chechik.
Adriana does a great job interviewing Megan as well as giving her some tips of the trade about letting go and not worrying about how you look during the scene. Then Rain reveals more about herself, saying, "I didn't have my first orgasm until porn. And I never hooked up with a girl until porn."
Chechik does a number on her, finger-fucking her asshole and then penetrating it with a ribbed, glass dildo while whacking her butt cheeks. Rain seems to love every move Chechik makes and returns the favor on her. Their scene is arguably the hottest and most intense one of the movie.
Synopsis:
The skies are about to open up for Megan Rain in her first showcase movie! A sly, energetic brunette who knows how to work it when she plays, Megan drenches every scene in passion with Adriana Chechik, Whitney Westgate, Danny Mountain, Alex Jones, Daniel Hunter and Seth Gamble. Adult Empire Films brings you a deluge of debauchery featuring Megan's first girl/girl anal and boy/boy/girl scenes, plus much more. A storm is brewing!