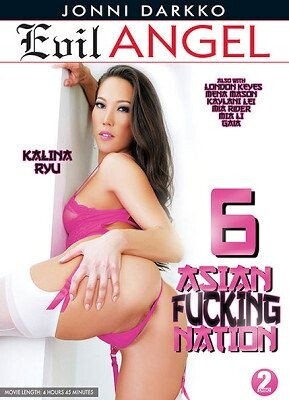 From Evil Angel and director Jonni Darkko, "Asian Fucking Nation 6" has seven scorching Oriental babes spread (literally and figuratively) over two discs, with marks of superlative sluttery going to Mia Li, Kaylani Lei, and London Keyes, all of whom delightedly take it up the rear like true champs.
Kalina Ryu, a Darkko favorite, starts things off, incessantly mugging for the camera (and wearing strange contact lenses which don't do her justice), before Darkko, eventually, invades her mouth, then her vadge. As cute and upbeat as Ryu is, she doesn't take it up the crapper, and both her glamour and masturbatory scenes take way too much of disc one's space — though we can't get enough of that juicy ass, while it's thoroughly nasty seeing her so sloppily rim Darkko's ditch.
Scene two has Mia Li posing beside a motorcycle in a garage, before Ramon Nomar, in all his bully charm, shows up and flat out tells her, with heavy Spanish accent, "I'm gonna fug yurr ass too-die (today)" which he does, quite deeply, inside the house on a standard all-white porn sofa — but not before we have a little sucking and fucking against the (obviously-there-for-no-other-reason-than-to-show-it-off) motorcycle. I've always liked Mia Li, and she rocks here, what with that marvelously succulent ass which, at times, winks at the camera, when it's not being crammed fulla Barcelona beef. She actually giggles and purrs the harder her butthole is banged. Amazing!
Disc two begins with the still-hot-as-ever Kaylani Lei smiling and squirming — as well as sticking a big, black, greasy dildo up her anus — before Chris Strokes appears (baseball cap and all) to give her the real thing, albeit an ivory rather than ebony prick. Kaylani not only knows how to gag well on cock, but it's a distinct pleasure watching that luscious butt of hers get all oiled up and take it up the pinky, then the brownie.
Next, Mia Rider (too many Mia's, Mena's, Li's, and Lei's in this fucking flick) pretty much worships Gaia's sweet anus, when the former isn't jamming massive dildos up the latter, before the ladies — mostly Gaia — briefly blow Darkko, after which Rider returns to licking and sticking Gaia's stinker. A to-the-point horny lesbo interlewd, without any frills.
Yet it's the big scene that Darkko shrewdly saves for last, as the amazing London Keyes takes on Chris Strokes and Rob Piper — with some help from Mena Li — in an positively explosive finale. We begin with the girls making out in slo-mo somewhere outdoors — mostly sucking face, licking nipples, and pouring liquid on each other — before moving indoors, where the ladies eat each other's nether regions until the real action begins, as the lads tear these hot and tasty chickadees apart. London is wearing an incredible black fishnet body outfit, open at the crotch and butt; oddly, Piper disappears at times; and, while Mena, unlike uber whore London, never takes it up the ass, she does do a double pussy penetration, and she's great at ATOGMs, as is, of course, the always-outstanding Ms. Keyes, who simply shines at everything (particularly that perfect ass of hers when it's all oiled up!). Ever the good slut, London, naturally, gets (gladly!) DP'd in various positions. She even rims Strokes for a long-ass time before sucking his dick silly. Ahhh, London, London. We wanna marry this prize bitch!
With special wank-thanks to Mia Li, Kaylani Lei, and, of course, the incomparable Ms. Keyes, "Asian Fucking Nation 6" does not disappoint — even for those pervs who aren't suffering from Asian fever like the rest of us poor saps, and THAT includes (the very lucky!) Mr. Darkko.
Synopsis:
Director Jonni Darkko presents "Asian Fucking Nation 6," an extravaganza of sensuous, nasty Asian-American babes teasing the camera in sumptuous style and indulging in the nastiest of hard-core sessions, including a ferocious two-girl threesome and an intense interracial orgy. In a cunt-stretching POV toy-fest, Kalina Ryu sloppily deep-throats Jonni's dick, rims his anus and sips his semen from a glass. Sultry, big-boobed fox Mia Li reams her tender butt with a monster toy. Latin stud Ramon Nomar passionately plows her pussy and asshole. Petite Asian princess Kaylani Lei uses her talented mouth on a massive, throbbing dick, and gets shafted in every hole! Korean glamour girls Mia Rider and Gaia use fat rectal probes and slurp on a stiff dick. Fishnet-clad supersluts London Keyes and Mena Mason enjoy an oil-slathered orgy with hung white stud Chris Strokes and big, black Rob Piper; there's anal fucking, double penetration and a "double-cuntal": two cocks in the same pussy!