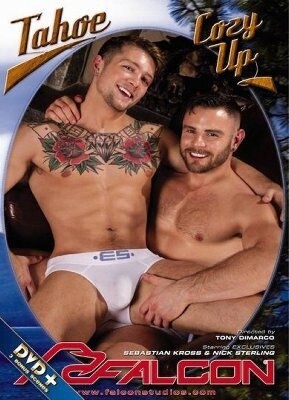 Inspired by Falcon's iconic "The Other Side of Aspen," director Tony Dimarco heads to a snowy retreat. Handsome Brenner Bolton finds a DVD of that movie, popping it in and popping his cock out — his stroking soon caught by horny Sebastian Kross, who has a hot cock reveal when he has to pry the steel shaft out of his jeans. It's especially hot watching Kross sit back as Bolton gets to work, the camera worshipping it just as well as Bolton does. Andrew Stark finds a restless Ricky Decker in the kitchen, teasing him with his massive cock. Decker gulps and gags on the monster in one of the hottest moments here (hot added touch: they try to stay quiet), Stark instructing him to "keep his mouth open" as he whips his rod on Decker's tongue (you can just feel how turned on both of them are). Decker's ass then shakes as he gets pounded.
Kross returns in an all-oral encounter with Brandon Moore (Dimarco again giving us a great "cock pop" reveal), while Nick Sterling and Owen Michaels flip fuck, Sterling getting a great facial on his furry face. After a Decker solo, Johnny V and Billy Santoro stare at each other through a window as they stroke, a flip fuck closing it out. Three scenes from the original "Aspen" series are included as a bonus.
Synopsis:
With hopes of hitting the slopes, nine hot Falcon men head to Tahoe. While there's plenty of action on the mountain, these horned up studs stay inside their cabin and hit it with each other in Tahoe - Cozy Up. The snow is falling, but the cum is pouring in this hot, wild ride from the skilled hand of award-winning director Tony Dimarco. Under his direction, a day at a cabin in the mountains is filled with sexual excitement and lusty energy. Tahoe - Cozy Up will have you staying in, wrapping your hand around your pole and producing an avalanche of cum.