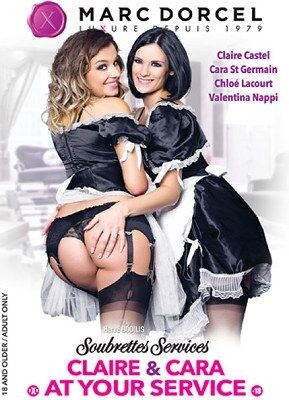 From Marc Dorcel Video, "Claire & Cara at Your Service" is what you'd call a hybrid gonzo (containing very little if any plot, with recurring characters and smokin' sex quickly — and, like most porn, illogically — unraveling; all taking place at a lavish mansion somewhere in Europe), and it features not only three far-out French floozies but an irresistible Italian hussy (the amazing Valentina Nappi) taking on the world's worst (or is best?) specimens of Euro trash, with high points, indeed, going to Claire Castel for energetically putting out far more than the other belles. Quelle merveilleuse putain! Translation for all you non-frogs out there: "What a wonderful whore!"
The first two scenes focus on French babe Cara Saint-Germain (as of this writing, C & C at Your Service being her one and only title), with Cara first having a tasty girl-girl interlude with the seemingly insatiable Claire Castel, before the former animatedly gets it on with a slob named, believe it or not, "Math." (Definitely a new low in lame names.) Cara's a total beauty, sure, but it's Claire who far more laudably (and literally!) works her tongue off in their twat-to-twat sequence, while goober Math stands around, guzzles beer, and ogles the spit-swapping chicks. The girls share a dildo in their cunts, which isn't as arousing as Claire shucking Cara's clam. And we soon see more of Saint-Germain's awesome body in the next scene, as Math finally jamming his digit into her sopping slit. Talk about a great derriere on this belle de jour! — particularly highlighted during cowgirl.
The next big scene has Chloe Lacourt (playing the only non-maid in the movie), excitedly taking it up the twat then the ass from bald-headed Mike Angelo in a sports car, parked snugly in one of the mansion's single-car garages. There's, actually, a prelude to this scene, as Valentina sucks off Ian Scott in the woods before he tit-fucks her, splatting Euro toxin 'cross Nappi's delightful cleavage. Scott later finishes what he started with beautifully boobed 'n butted Valentina in the movie's finale, which is horny (Ms. Nappi always puts in a whackworthy performance) but anti-climactic compared to Claire's penultimate DP. Anyhow, Valentina's brief titty-fuck is a sort of aperitif to the Chloe cornholing, which rocks. Chloe has an attractively slutty mug (kinda like a young Amber Lynn). Additionally, she possesses an amazing figure, made all the more scrumptious when bent over so as to flaunt that fab French fanny.
Next, we have the movie's highlight: a DP of total trollop Claire Castel, whom both James Brossman and Mike Angelo win in a poker game…before they, well, poke her. Claire likes to kiss (great), while also enjoying plenty of eye contact (greater still) with both pudsters. The garter belts throughout the movie, by the way, magnificently embellish the juiciness of the ladies' succulent butt cheeks, with Claire's meaty muffins being a superlative example here. And we're pleased to report that Ms. Castel's DP is the movie's (hooray!) longest scene, with our two goons boisterously double-dipping her both doggie and reverse cowgirl.
While all four tarts in "Claire & Cara at Your Service" are sexy and passionate as hell — particularly Claire Castel (we also like the fact that there's absolutely no dialogue whatsoever in the movie) — you can't help but resent the presence of condoms, while ultra anal tramp Valentina Nappi doesn't even take it up the stinker. Quelle dommage! Basic translation for all you non-Claudes out there: "No anal from Valentina is a dirty fuckin' shame!" Still, all o' these above-mentioned arousing examples of marine biology in action make "Claire & Cara" positively worth checking out. Hell, even Jacques Cooze-teau would be proud o' this fish fry!
Synopsis:
Everybody in this house, the male staff and these three gorgeous maids in uniform alike, has a duty to cater to Madame and her husband's every desire. Devotion, obedience, perfectionism, but also, and above all, beauty, sensuality, imagination, boldness and limitless perversion. These are the many strict criteria by which employees are selected. The natural confidence and sexual appetite of young Cara immediately appealed to her wealthy employers in their stately home, as well as Claire and Valentina, the two other maids. Well…Especially Claire! Tonight, Claire invites Cara to her room. They are followed closely by the butler…