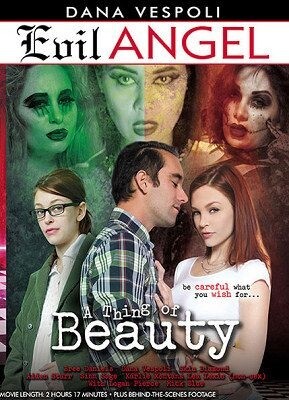 Dana Vespoli's modern variation on the Faust legend — selling your soul to the devil — starts slow but picks up fast. Bree Daniels, a shy, mousy girl working a temp job, is seduced by the promise that she can change her life via a TV commercial from one Victoria Hook (Vespoli). She eagerly signs a document without reading it and all of a sudden is feeling and looking happy and hot.
After some satisfying sex with fellow office-worker Logan Pierce, things start getting weird. She gets lost in some kind of park and is accosted by top-hatted Sinn Sage and Karlie Montana and they all have mad girl-girl sex in a tunnel. She hallucinates, seeing a rag doll dancing on her toes to a vintage pop recording. Then she watches Aiden Starr dominate
Skin Diamond, a fallen angel whose wings have been ripped off. Lotsa spanking and verbal abuse before it's strap-on time. Bree has a vision of Victoria Hook herself having sex with Mick Blue as another fallen angel, also wingless. Dana goes full anal and A2M — it's a volcanic scene from two great sex performers. Finally, Dana tells Bree that now that she's turned her life around, it's time to give the devil her due — with her soul.
Synopsis:
The real Dana Vespoli is an impressive mix of inventive filmmaker and lusty sex star. Portraying a carnal she-devil in her Faustian feature "A Thing Of Beauty," she's equal parts beguiling and intimidating. The ambitious movie's story surprises, convincing acting, hellish imagery and clever special effects ignite a potent variety of sex scenarios in a depraved re-imagination of the classic devil's bargain. Natural-bodied redhead Bree Daniels' transformation from mousy mess to confident cutie enhances her professional and sexual satisfaction. Her lovemaking with new boyfriend Logan Pierce is no automated porn sex; they look like a real couple excitedly experiencing each other for the first time. Bree's deep-throat talent seems heavenly, but she's dragged to a darker place by black-clad hellions Sinn Sage and Karlie Montana; they dominate Bree in a brutal, blasphemous all-girl three-way. Stylish black beauty Skin Diamond bears bloody scars where her wings were ripped off. Buxom fuck demon Aiden Starr makes the fallen angel confess her sinful pleasures in a rough lesbian session. Claiming another fallen angel (Mick Blue), heartless Dana reveals her morality: "I can feel the grace of God going up my asshole, where it belongs."