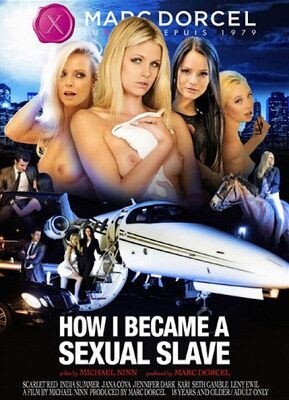 Despite the lurid title, this is a dreamy and often poetic tale of an innocent girl lured into a secret society of high-end escorts who, in the words of its leader India Summer, "are moving humanity to the light." America's Michael Ninn, shooting both at home and abroad, indulges his passion for beautiful women, gauzily shot but highly sensual sex, and often somewhat woozy voice-over narration.
Scarlet Red is completely convincing as the wide-eyed heroine. She has romantic sex with boyfriend Seth Gamble before being recruited by India into what she calls "the daughters of Caligula," servicing that one-percent of males whose money rules the world and being amply compensated in return. Throughout history, she tells Scarlet, "We have worked to control the madness of men."
A swearing-in ceremony becomes an orgy, with blondes Scarlet and Samantha Rone facing off against brunettes India and Jennifer Dark. (This is preceded by an all-Euro threeway with Jana Cova, Kari and Leny Ewil.) Scarlet's first assignment, with rich dude Nick Manning in a luxe hotel room, is brief. After he cums on her she decides, "I can no longer do this." But does she really have a choice? Biggest takeaway is that it's great to see Ninn, a visionary pornographer, continuing to create, even for a studio far from Porn Valley.
Synopsis:
With their irresistible charms, India and her 'sisters' manage to seduce and influence the most powerful men on the planet. But for their secret society to endure over time, they need to recruit and train new young women who are both beautiful and obedient. India has had her eye on Scarlet for many years. This beautiful and experienced woman who leads the fraternity sees great potential in this pretty blonde with a perfect body and intends to make good use of it. Perverse initiations, lesbian orgies, exhibitionism, etc. Scarlet's first steps into the fraternity will be particularly eventful.