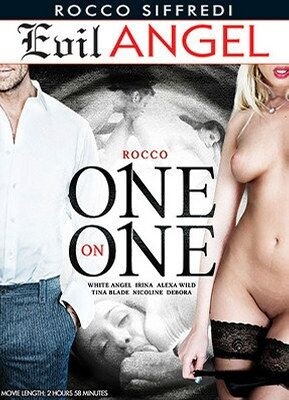 Rocco has his way with young, dewy, pretty things. Hungarian White Angel is the only one who seems not all that thrilled. She looks like a sacrificial virgin. Rocco knows she's lukewarm and, in a rare lapse, cums prematurely, on himself. Brunette Irina, a Russian, has no problem with being buttfucked, bouncing sweetly on his huge cock.
Alexa Wild, from Croatia, the only professional, brings along a protégée, Tina Blade. She's pretty and skinny and her talent is squirting. She screams when Rocco two-finger fucks her and unleashes a geyser — it just pours out of her. She helps ease the huge cock into her virgin ass. Rocco also buttfucks Alexa while he's at it.
The cutest and liveliest girl is Nicoline, from Russia and part-Mongolian. This baby-faced exotic laughs with joy when she pops Rocco's stiff wood out of his pants. She says she loves big dicks and proves it when Rocco's slides into her ass. She gapes hugely and licks Rocco's butthole. It's a great ass pounding, followed by a big load into her ever-smiling mouth. Rocco gets it over with fast with the last girl, Debora, who gives him a blowjob.
Synopsis:
Worldwide porn icon Rocco Siffredi takes his roving camera closer to home in "Rocco One On One," a collection of intimate, POV-style scenes shot inside the director's swank office. Gorgeous young ladies from all over Eastern Europe visit, hoping to sample the kind of personal attention that only Rocco and his notoriously massive cock can provide. White Angel, a dancer from Hungary, eagerly rides Rocco's uncircumcised schlong until it erupts a fountain of cum. Adorable, 20-year-old brunette Irina worships the older man's enormous boner; Rocco expands her tender butthole using his thick shaft and a giant dildo. Skinny blonde Alexa Wild invites her young girlfriend, petite newcummer Tina Blade, for some lewd three-way action ... or one-on-one-on-one! Rocco ruthlessly invades Tina's asshole, and the girls share a spermy kiss. Super-cute, young Asian-Russian Nicoline gets relentlessly fucked in every hole; a messy oral cum shot is her reward. Hungarian slut Debora smokes a cigarette while orally servicing Rocco, and she enjoys a deep ass reaming.