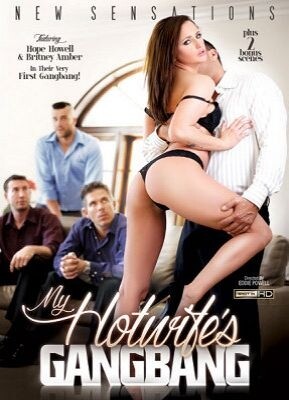 It's two mini gangbangs (as in two groups of four guys humping the living daylights outta two girls, separately), during which you get pounding anal, nasty double penetrations, and sloppy blowbangs, all courtesy of the fine freaks at New Sensations. And the two girls bleachered, er, featured include Hope Howell and Britney Amber; two white chicks who dig dick and decadently display it in their own uniquely whorish ways.
Who'd ever think that a pretty girl like 25-year-old Hope Howell could act like such a complete tramp? — but she does, in her four-man multiple schtup, and we love the bitch all the more for it! Long story short: Still not home from a business trip, Hope's (never-seen) on-screen husband leaves her a voicemail message telling Howell to go over to their friend's house, as hubby has a surprise for her. "Wear something really slutty," he tells Hope. "It's something that's gonna really test your batteries. Don't worry, I know you're gonna love it."
The "friend" is Toni Ribas, and the surprise is, just as you guessed, a four-prick ravaging of horny Hope, who most certainly lives up to her last name: Howelling from start to finish. First off, she's a marvelous cock-gagger. Hell, her blowbang could be a movie all by itself! She's also a true workhorse: Even when boinking like a bunny on meth, she's sucking cock as if she'd been starved for days. The boys not only pull a steaming anal train on her, but DP her doggie style for a long-ass time. She likes it fast and furious, too. And we like Hope from her cute mug right down to her puffy, succulent-looking pussy. She's a keeper!
Next is Britney Amber gluttonously getting the "hotwife" treatment a la four stiff, wagging penises. Her on-screen husband, Michael Vegas convinces the tart to take on all of his pals. And it's not like you have to twist this ultra-whore's arm to partake of a gangbang. Please. Juicy 28-year-old Britney loves getting DP'd, and we love watching that big Amber ass wobblin' every which way as she gets her double dosage. And, like Hope, Britney is made to doo-doo an anal train when bent over. Molten stuff. Karlo Karrera, by the way, really buries his Latin lamppost WAY inside her quivering shitter any chance he can get. The massive thing looks like a flesh-covered toilet plunger! But there we go, mixing our metaphors. Shame on us.
Simply put, these two gangbangs are nuclear—and there ain't a condemning condom in sight, either. You're gonna love it, Jake!
Synopsis:
For these hotwives, being fucked by multiple men is what it's all about! Join Britney Amber and Hope Howell as they indulge in their lust for hard cock in this all-out fuck fest. Get ready to participate in my hotwife's gangbang!