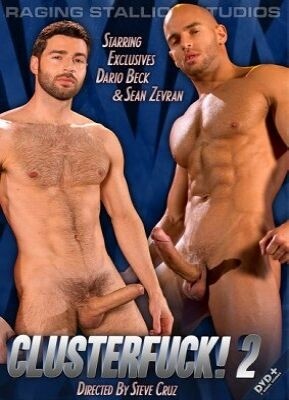 Even better than the initial installment, this follow-up from director Steve Cruz is bursting at the seams with fan-favorite cock. The highlight is the fourway that starts with jock-strapped beefcakes Rocco Steele, Hunter Marx, Boomer Banks and Billy Santoro swapping smooches. Steele soon has his massive cock and balls getting triple teamed: Marx and Banks servicing the shaft from both sides as Santoro buries his tongue down below. They pair off, Steele growling like the macho fucker he is as he slides his dick into Marx (a dream pairing that I hope the studio gives us more of). "Take that dick," moans the deep-voiced top, his man hand gripping Hunter's hairy muscle pec. "Fuck yeah! That hole's mine, buddy!" It's ridiculously hot, an overhead shot showing Steele's shaft disappearing as Marx moans.
Banks meanwhile pounds a very verbal Santoro, covering the bottom's mouth from behind. Banks then offers his hole as Marx and Steele take turns on it. Marx — still enraptured with Steele — looks back at him for a kiss and encouragement ("Get in there! Fucking pound that ass!") as he enters Banks. Phew! Three more duos clinch this as a keeper: Steele's massive shaft stretches a breathless Banks to the limit (it's so hot to see this typical alpha take the sub role); Marx fucks Santoro; and Sean Zevran fills up Dario Beck.
Synopsis:
Brace yourselves for the second half of an intense 2-parter. Starring a top-notch cast of hot and hung men, directed by Steve Cruz.