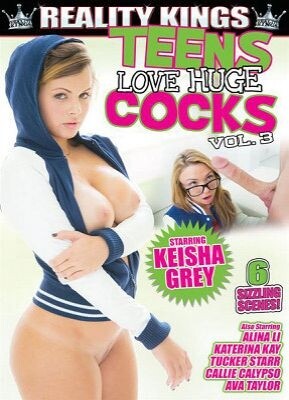 Teens? Actually, the only teen in Reality Kings' "Teens Love Huge Cocks 3" (TLHC3) is Ava Taylor, who'll be 20 by the time this review is out. No big deal: All of these bangable babes look young enough to pass as barely legal material, even Tucker Starr, who's the oldest of the "teens" at 24. Better still, not only is each episode in TLHG3 worth checking out, but you get six (not four, not five, but six!) sex scenes. Awesome!
The first three interlewds in TLHC3 are definitely the steamiest. And we're off to a superlative start, indeed, with Keisha Grey, who comes across a bit jaded in her pre-sex interview (the behind-camera interviewer is such a dullard, however, we don't blame Grey for being bored to death), but she most certainly comes to life when fed a healthy dose o' dick. Her perfect butt is made all the more unbelievable after it's oiled up. There's also a terrific overhead shot of that priceless pooper as Grey gets doggied by Chris Strokes, who's in every scene (so get used to him) except the one with the amazing Alina Li, which follows Keisha Grey's pounding.
Talk about back-to-back hotties!—Keisha and Alina, not Strokes and lucky bastard Johnny Sins, who has his wanton way with Alina, looking as luscious as ever. We just can't get enough of this Asian beauty's sleek, all-natural body; juicy ass; and adorable face! Great attitude, too! And aside from a way-energetic fuck, she deepthroats like a champ. Then there's cute-as-heck Katerina Kay, wearing big glasses in her scene, making her look all the more precious. Flaunting another incredibly luscious body, Kat's is absolutely a keeper, either face up (what a face!) or bent over (what a pair o' buttery butt muffins!).
Our last three girls aren't exactly chopped liver, either. Tucker Starr is an Amazonian with a meaty ass, which totally gets Squire Strokes rocks off. Callie Calypso takes it up the shitter briefly, but soon starts wincing (guess they didn't pay her enough drill-her-doo-doo dough), causing Chris to pull out his massive man-vine. Still, she performs exceptionally well, particularly in the bj department, going deep and getting loud and messy. Lastly, pretty/sexy Ava Taylor is a fine cunt-clusion to this fab fuckfest. Check out her impressive abs and how well she take Strokes' swollen snake up and down her velvety vadge.
With six scenes featuring a sextet of sizzling sexpots—especially Keisha, Alina, and Katerina!—"Teens Love Huge Cocks 3" is a wanking winner bound to leave you limp from X-haustion.
Synopsis:
They sure do! Six sizzling scenes of teens taking the hugest cocks imaginable!