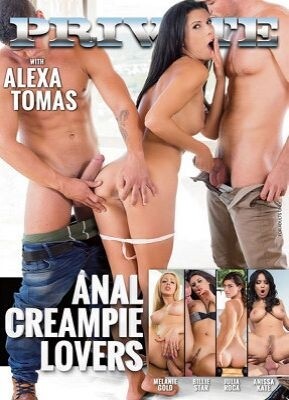 This is the type of Private title that keeps U.S. porn viewers asking for more. Five stunning girls, a few of whom appear to be complete newcomers, all doing downright filthy acts on camera with stellar production values backing it up.
As advertised, every scene ends with an internal ass pop. Anissa Kate is the only cast member to go next level and get d.p.'ed on a balcony in a scene that starts in the daylight and ends in the dark. But Kate isn't even the biggest highlight of the movie.
Alexa Tomas, who occupies the box cover for good reason, looks gorgeous telling the camera it's her fantasy to have a threesome with her husband Joel and another guy. Well the other guy shows up and they do the deed, while Tomas seems to enjoy every minute of it before welcoming a pop in her ass.
Then damn near stealing the show, Melanie Gold tells us how she likes a guy to "break my ass" on camera in her sexy Hungarian accent. Gold looks great in a tight mini-skirt and even better out of it as she gets fucked doggie style before the inevitable creampie finish.
Director Xavi Rocka got just about everything right, shooting the girls in sexy cocktail dresses first with beautiful, flattering light in every scene with each ending in a nasty conclusion.
Synopsis:
They will fuck who ever they need to just to get a hot injection right into their tight little assholes!