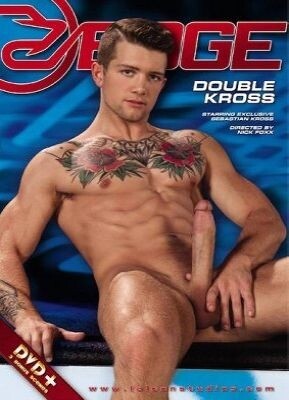 New "it" man Sebastian Kross (that hot fucker with the pec tattoos) gets two scenes (hence the title), starting with bearded Chris Bines — who lays back and dips his head over a ledge to get face fucked, Kross slapping his shaft on the sucker's mouth. Bines then sits down on the stud (whose hot leg hair pops from his quads) before getting on his back, his ass hair clinging to Kross's shaft. The bottom gets a facial at the end, a wad stuck to his nose and forehead with some cum drops on his beard. Kross returns to fuck Ryan Rose in the finale, grabbing hold of the bottom's jockstrap and plowing him from behind. But the hottest shot come when Rose gets on his back and rolls up his legs, getting plunge-fucked by the top — both of their chiseled abs tightening up in an unforgettable image.
Andrew Stark towers over bottom Adrian Hart, who spreads his own cheeks to get reamed by Stark's big and beautiful cock — which later explodes onto the bottom's face, a wad clinging to his mouth and falling down. Speaking of wads, watch for the hot string of cum that dangles from Josh Conners' nose and lip after Jimmy Durano shoots on his face — it sways over the bottom's extended tongue, Conners opening wide to suck the top as he looks up.
Synopsis:
Get at the double, and double down on the lube because the intense, hardcore action in Double Kross will have doing double takes. Delivering double-superstar trouble, mischievous Sebastian Kross will have you seeing double with two scenes of cum-bustible, cock-throbbing action. Double Kross director Nick Foxx gets double the pleasure out of every scene filled with heated man-on-man action that will leave your balls drained.