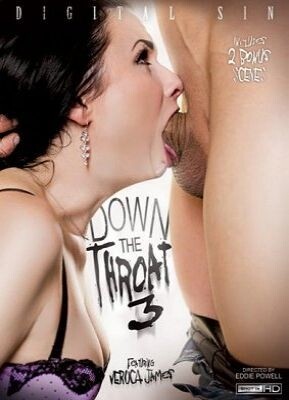 Don't let the title of this Digital Sin entry fool you. While there's plenty of awesome deep-throating, you also get loads of vaginal penetration to engagingly mix things up. Actually, it's probably mandatory to have fucking in such an intense blowjob movie — otherwise the bitches would probably vapor-lock from penile suffocation! And while there isn't a bad suck-off in the house, big/VERY deep points go to uber tramps Chanel Preston and Veruca James, whose creative mouths bookend the movie; a smart move, indeed, by director Eddie Powell.
And, boy, are we off to a good suck/fuck start with Chanel! Interviews precede each scene, with the ladies casually discussing their inhale-it-down-to-the-base techniques, with Chanel revealing her deep-throat secret as proper breathing. And you'll be breathless hearing her rude, filthy slurp sounds, observing her incredible over-production of saliva, and witnessing her many moments of edgy deep-throat silence. It's all so hornily sloppy! Chanel very impressively worships each inch of Jordan Ash's massive man-meat, and that includes, natch, blowing his salami upside-down. She's a great roll in the hay, too!
Sabrina Banks is a fine dick-imbibing tart. In her interview, she tells girls that deep-throating is easier on yer back, thus keeping one's throat straight and not curved. Whatever. Point is, she exhibits some awesome mouth-plunging action on Bruce Venture's vein-laced vine. And Sabrina's taut, compact body and high energy during her cunt reaming effectively augment her scene.
Next up is Rachel Midori, who likes kinky sex, is a self-admitted "pleaser," and a pleasure to VIEW as her mouth — then sumptuous cunt — is hammered by the Bruce's long 'n' thick love stick. Rachel's punk haircut lends visual variety to the gag proceedings, and we appreciate that Bruce doggies her twice, letting us doubly enjoy her meaty butt (accented by a pair of knee-high shiny black boots).
But the best is saved for last as 23-year-old Veruca James blows us away — and, yet again, Bruce's dick — with her sizzling suck-n-fuck techniques, along with her unique looks and all-around slutty, submissive nature. "Relax… and have lots of spit worked up so it can slide down easier" is her advice to girls wanting to take the extreme oral adventure. A veritable magician, she makes Bruce's formidable shaft disappear in her gob, while her sweet cunt is eventually drilled every which way. And what a succulent ass on juicy James. She's a keeper!
"Down the Throat 3" is a keeper, too! While there's a surprising absence of anal from Chanel and Veruca, two true butt-fuck whores, the wild cocksucking action provided, as well as passionate pussy plowing make up for any lack of cornholing. Get it!
—
Synopsis:
When it comes to deep throating, these ladies can take it all! Join Veruca James, Sabrina Banks, Chanel Preston and Rachael Madori as they go balls deep to show off their amazing deep throat skills. These cum queens always enjoy a good fucking, but tonight, what they really want is a fat dick down the throat!