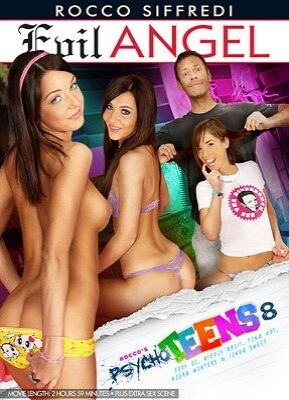 In an embarrassment of riches of the teen fuck-toy variety, Rocco Siffedi does it again with the eighth edition of his "Psycho" series. Where in the world does he find these girls? If you're wondering that too, the short answer is: somewhere in Eastern Europe.
One would be hard-pressed to find cuter young Euro girls doing dirtier deeds on camera anywhere on Earth. In the opener, Linda Sweet starts by acting shy and demure, while Alexis Brill does a naked split and gets fucked first by Markus Dupree.
But then to everyone's surprise, Dupree turns to Sweet and sticks it straight up her ass, bypassing her pussy completely. Needless to say, we were not expecting that but we didn't mind it either.
Brill eventually does A2M with Sweet. The unassuming Dupree looks like he's the drummer in a British boy band, but he has banged his way into Rocco's rotation and pistons these girls well. It's a great opener, but scene two is even better.
Tina Hot, dressed like a girl scout, walks up on Mike Angelo and Yanick Shaft taking target practice and wants to join them. But she accidentally shoots Angelo in the nuts. He forgives her by allowing her to suck his dick in the start of a ball-draining scene in which the guys pass her around and D.P. the shit outta her.
Siffredi himself does the honors in the next scene, seducing and then manhandling American Kiera Winters in the bathroom. Siffredi can still wreck pussy with the best of 'em, working over the pretty brunette in ways she seems to have never thought possible.
The finale features stunning Russian Foxy Di, a walking wet dream of a performer whose ass is a Rembrandt and whose eyes you could write a song about. Dupree returns to do the dirty work, and he not only throttles her in the pussy, he also plows her ass expertly. Seeing Foxy relentlessly railed almost seems to good to be true.
In a mini-handwritten note scanned onto the back of the box cover, Siffredi raves "this movie is absolutely incredible, each scene is better than the last. Maybe some of the best I've ever made."
No argument here.
Synopsis:
Legendary Italian director Rocco Siffredi scours the globe for the kind of sexy, young ladies that go crazy for a big, hard cock. "Rocco's Psycho Teens 8" features a bevy of beautiful, fresh sluts that might just be a bit screwy when it comes to wild, perverted backdoor sex! Pale, gorgeous redhead Linda Sweet and tanned brunette cutie Alexis Brill enjoy a wild, nasty anal three-way, climaxing in a creamy kiss. When slender scout Tina Hot accidently injures Mike Angelo, he and partner Yanick Shaft use this opportunity for an ass-banging threesome and nasty double penetration. Rocco's massive boner tames sassy, petite American brat Kiera Winters. Adorable minx Foxy Di eagerly slurps on a big dick before making her sphincter expand in a passionate anal fuckathon. And in a bonus, POV-style scene, Linda returns to get her tiny rectum wrecked; she slurps Rocco's giant rod ass-to-mouth until he feeds her a load of hot jism.