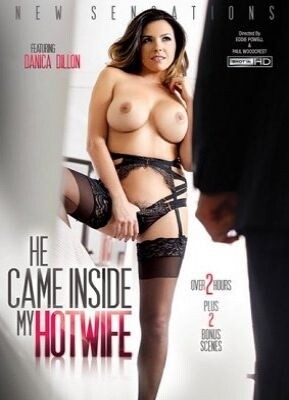 Adding some kink to basic vaginal sex, New Sensation directors Paul Woodcrest and Eddie Powell give you four cougars who let other guys fuck 'em then fill 'em, with their husbands (never seen) fully knowing about the freaky dick drillings/custard injections. All these ladies are worthy of being boisterously banged, with each of 'em putting in perfectly horny scenes and the understandably questionable internal pop shots looking real enough, too.
Starting things off, Nikki Daniels has her perv husband listen in on the ol' cell phone while beaver-faced Erik Everhard — not knowing his every groan is being clearly relayed to by Nikki's, no doubt whacking, hubby — penetrates the living hell outta the bronze-skinned, wiry, highly flexible Daniels. Good sweaty action.
Next, hot stuff Danica Dillon has her husband's newest employee Tommy Gunn enter her sleeping chamber — before slamming and sliming her embryo chamber — telling him that if he doesn't do a good 'job'… he'll LOSE his job, per the boss' instructions. Tough duty, eh Tommy? We should all be so lucky, seeing as Dillon is (as usual) one sizzlin' slut. And, trust us, decadent Danica does not disappoint here.
Our next creampie session is cunt-ducted by shit-grinning Spaniard Toni Ribas, with instructions from Abby Lee Brazil's bent husband to come inside the bitch; with the invitation developing into quite a heated hump session, particularly when Toni gets Abby's juicy butt muffins really flyin' in the cowgirl position. At one point he even sticks the head of his Barcelona boner up her butt during doggie… only briefly…but it's still a memorable moment.
Lastly, Asian hottie (flaunting big ol' Dragon Lady eyelashes) Miko Dai lets her husband's employee, Chad White, hammer then hose her cunt to high heaven. Yes, the husband, supposedly a good friend of White, is fully aware of this orchestrated infidelity (if you wanna label it such), with Miko showing herself as quite the passionate fuckette, letting Chad really plow her. And we love how she takes her time sucking — and trying her damndest to deepthroat — Chad's massive love muscle. We definitely hope to see more of delicious Dai.
"He Came Inside My Hotwife" is a sexy, not-too-crazy, but still, inevitably, dirty creampie title with provocative (if somewhat hard-to-believe) situations. And, unless each of the husbands of these "hotwives" is sterile, we most definitely suggest a DNA test once baby pops out.
Synopsis:
These hotwives have a craving for hot cum, so we're going to give them a load that they'll never forget! For over 2 hours, watch Danica Dillon, Abby Lee Brazil, Miko Dai and Nikki Daniels get their pussies filled to the brim with a hard cock and a huge load of hot jizz! Tonight, he's going balls deep inside my hotwife!