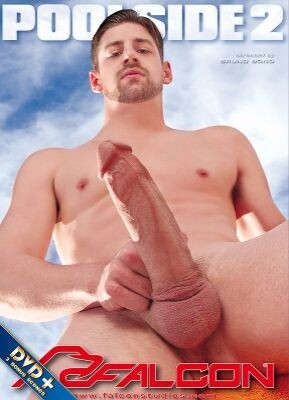 There's something so sexy about Andrew Stark's smooth, light-skinned swimmer bod —that is, if you can get past looking at his big dick. The stud gets slurped poolside by Josh Conners, a hot strand of spit sliding down Stark's shaft as drops of it cling to his pubes. The camera hovers over Stark's shoulder as he lay back in a lounge chair, giving us a beautiful bird's- eye view of his thick, straight cock. Conners sits down on the stud, getting stroked as he rides; then gets it doggie style as Stark wraps his arm around the bottom. He turns Conners over, Stark moaning "Look at that ... that's fucking amazing!" as he stares at the bottom's tight abs while plowing him (yes, it is an amazing view!).
Dark-haired hottie Jack King gets blown by Colt Rivers while lounging in the pool, then gets the sucker's toes curling as he fucks him hard — his bush slamming the bottom's ass (watch it go all the way in during a great sequence). Then watch the bottom take control when he gets it from behind, impressively sliding back and forth on it as King stays still. Jock Ryan Rose pins Rylan Knox to the ground when plowing him, the top's muscular arms supporting him up; while hairy Derek Atlas swaps sucks and fucks with smooth and ripped Darius Ferdynand.
To order, visit FalconStudios.com.com.
Synopsis:
The most stunning men sport huge hard ons in their swim suits, the heat stirring their desires, the crystal blue waters and other sexy men inviting them for a dip. Poolside sex is steamy, sensual and satisfying. In 'Poolside 2 DVD' , directed by Bruno Bond, a hot summer day heats up the sexual desires of eight gorgeous men who rendezvous Poolside for the breathtaking outdoor action that Falcon is famous for. You'll want to dive right in!