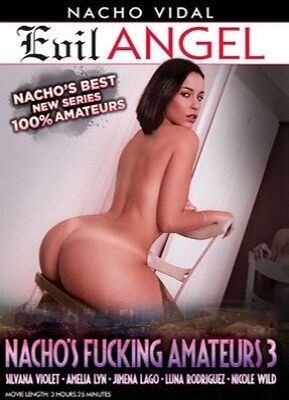 Perhaps it's his Spanish accent, but more likely it's his signature Latin psycho approach to sex.
Whatever it is, director/performer Nacho Vidal has that "it" quality that makes for great porno, regardless how low-rent the production value may be. Nevermind that he admits he's a shitty cameraman or the angles are often static, if the frame isn't shaky. It's about fucking hot girls at the end of the day, and Vidal is one of the best in the world at it.
Vidal opens this movie with a personal introduction, telling viewers how much he is enjoying this series with total newbies that know nothing about porno and seemingly have no idea what they've signed up for. And to have your very first sex scene with a guy like Vidal, well, the term "being fed to the wolves" may not do it justice. But that's also part of the charm of titles like this because it's like we get to witness extreme reality TV.
After a brief interview before scene one, Vidal destroys the pussy of 19-year-old Amelia Lyn, leaving her a quivering mess. Then the showstopper Jimena Lago, who is only 18, absolutely owns her scene in glasses with her hair in a pigtail.
"She has one of best bodies I've seen," Vidal says. "I'm shaking already just watching her body."
Vidal stretches her box like it's his privilege, and seeing her expressions is worth the price of admission.
Then our hero shows he has a heart, hooking up his best friend's little brother who just turned 18 and is still a virgin.
"I'm going to make the guy become a man," Vidal says.
First Vidal fucks the extra thick Luna Rodriguez himself, and then he gives the stage to Jordi El Nino Polla, who actually loses his virginity on camera with the game Rodriguez. How many guys can say they've lost their virginity in a Nacho Vidal movie?
The last scene is a real smoker, with tattooed super slut Silvana Violet going crazy for Vidal's pork sausage. They fuck first outside and then he finishes her in the bedroom in double ball-drainer.
Synopsis:
Legendary sex fiend Nacho Vidal unleashes his ferocious libido on the common folk in "Nacho's Fucking Amateurs 3," a five-scene journey into the perverse heart of Barcelona, Spain. See porn's notorious madman initiate a bevy of beautiful, never-before-seen Latinas into his style of relentless, animalistic fucking! Nineteen-year-old Amelia Lyn struggles to fit the director's monster cock in her mouth. Slender, bespectacled cutie Jimena Lago buzzes her clit with a wand, worships the director's meat and gets royally fucked. Nacho pairs earthy Spanish slut Luna Rodriguez with a skinny, 18-year-old virgin dude. This sexy plumper deflowers the lucky lad until he splatters her fat tits with goo. Black-haired teen beauty Nicole Wild lewdly rides Nacho, her pale, fleshy ass wobbling. At the beach with tattooed tart Silvana Violet, Nacho takes their "public display of affection" too far, as passersby watch in awe. Back at home, he makes this slender babe squirt girl cum in ecstasy, and Silvana milks his cock dry.