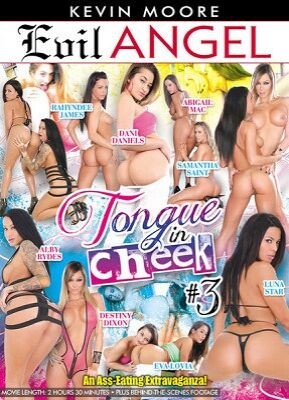 In probably Kevin Moore's best Evil Angel series, hot bitches from the Valley stick their tongue in their co-whore's asshole (and twat) in a total of four scenes/eight coquettes (yep, a pair of crack-licking sluts per episode), with plenty of sizzling glamour footage in the classic John "Buttman" Stagliano tradition.

Luna Star is really the star of this first dyke-to-dyke coupling, in that she shows far more of a hunger for female butthole than Alby Rydes, who does her fair share of eating, but disappoints by failing to clean up the sperm which Moore deposits on Luna Star's awesome ass cheeks once he's finished, briefly, banging the latter doggie style. Actually, when you get a pair of porn whores eating each other, one will ALWAYS be more voracious than the other. That's just how it works. And we love the spaghetti-strap outfits on these sexy brunettes (Luna being especially molten), which Moore captures superbly as they strut for his camera.

I absolutely LOVE the two tarts in the next scene: Destiny Dixon and Rahyndee James, who really go at one another, though it's Dixon who really gets deep in there. James, too. But James is the ingénue here, reveling and reeling in GETTING eaten by Dixon, which is quite evident, whether it's verbalized or not. Still, James quite obviously enjoys her diet of female anus. And, sheesh, talk about a pair of scorching ladies! Definitely THE most scrumptious pair in the entire title.

Dani Daniels and Eva Lovia are next, first seen working out together at home in their high heels and skin-tight white sweatpants (whew!); again, Moore does a terrific job of shooting the glamour stuff a-la-Buttman to get us revved up. Lovia (supposedly, Asian and Spanish) is positively gorgeous. Wish she did more boy-girl scenes. And what an ass on her! Dani? Well, she has a MAJOR butt.

And, yes, while Eva likes fish, Dani is definitely the more salmon-hungry of the pair.

"If you want this (job), you better come put your face in my ass right now." So says the always exquisite-looking Samantha Saint, (here playing a pompous clothes designer) to the younger, nervous, eager-to-please Abigail Mac (portraying a model who'll do "just about anything" to work with the bitchy Saint). Mac is excellent, by the way, at sticking her snout right up that Saintly shit-pit. And while both slatterns seem equally cunt-and-asshole-gluttonous, Mac is way better at showing the camera just how well she eats snapper.

Moore has proven himself one of the best videographers in the biz, and "Tongue in Cheek 3" is no exception to that track record. We love the fact, too, that not one dildo rears its ugly head here. No, these women just use their tongues to pleasure each other, not relying on the least amount of technology. Just one problem: when our director gets his dick into the picture (as he does with Luna Star) — then things get a bit shaky, literally, and out of whack (for us and the camera). Otherwise, an all-around great job, Monsieur Moore.
Synopsis:
Certain sultry ladies have a hard-core taste for female ass, and director Kevin Moore loves them. His "Tongue In Cheek #3" showcases the most gorgeous girls in the XXX business in a relentless buffet of anal rimming, pussy lapping and face sitting sensuality. These cheeky sluts can't resist putting their hungry mouths where the sun seldom shines! Tattooed, stacked Alby Rydes and scorching strip teaser Luna Star lick each other's juicy cunt and tongue puckered assholes until Kevin joins in for a POV-style threesome. He blows a load on Luna's bouncy ass. Sexy, raven-haired slut Rahyndee James and bikini babe Destiny Dixon enjoy an intimate round of 69-style lesbian pleasure. A yoga session with devastatingly delicious spandex-clad models Dani Daniels and Eva Lovia devolves into a perverse ass-licking workout! Curvaceous, young model Abigail Mac sucks up to her boss, bitchy blonde clothing designer Samantha Saint, and proves her career dedication by passionately devouring Samantha's fragrant, flavorful butthole.