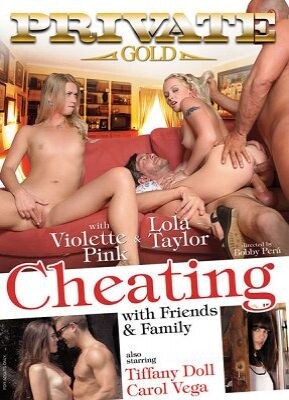 In this strong couples' fare from Private, horny Europeans get it on in a villa somewhere in the Old Country, with not a bad female body in the lot, and a great pair of performances by Russian slut Lolita Taylor.

More specifically, bald-headed Lauro Giotto has friends from the office visit his luxury home in the country, with nasty results, indeed. First off, his sexy wife, Czechoslovakian babe Violette Pure, bangs one of the male guests in the kitchen. Doll has a sleek figure, with cute, pert tits and deliciously tight ass. Soon, other guests arrive, with a pool party (during the day) ensuing, after which, while everyone is passed out, French slut Tiffany Doll takes on the bald-headed gardener, Moisex, who, oddly, keeps his weird ankle-high boots on during the porking. It's an okay fuck, which could have definitely been a bit wilder.

Next, Dieter Von Stein winds up humping his stepdaughter, played by the awesome Lolita Taylor, which explains the word "Family" in the movie's title. She's an excellent deepthroater, and the scene necessarily getting things really rolling in this picture, with Dieter totally slamming it to the pretty, dirty Lolita.

In the morning, Lauro's horny Latina maid, Carol Vega of Uruguay, sneeks into her master's bedroom while his wife is taking a bath in the next room and fucks him. It's another spirited penetration, with Violette walking in on Lauro right when he's in mid-spurt. "Sorry, honey," he groans to her. "I was sleepy and — UGHHHHHHHHH! (spurt! splat!) thought it was you!" It's even more hilarious when you hear Giotto blubber the lines with his ridiculously thick accent.

To make up for his "cheating," Lauro lets Dieter fuck Violette — and, lucky for Lauro (and us!), Lolita sneaks in and joins the fun, making it a filthy foursome, with both ladies taking it up the ass, and Lolita doing a doggie DP. We also get to further witness more (a lot more!) of Lolita's fantastic deepthroat techniques, with both slobs eventually blasting off on our Russian maiden's pretty gob.

The latter three scenes of "Cheating with Friends & Family" are definitely the best, especially the ones featuring Lolita; not to take anything away, however, from the early trysts, which are simply a little more laidback, but still whackworthy. A good, solid title for both couples and pervs. The performers do have heavy accents, though, frequently making their English almost incomprehensible. But, aside from the all-natural-bodied, great-looking women who sincerely enjoy to fuck, there's not a condom in sight, which is always a good thing.
Synopsis:
Scandalous sex and complicated carnal acts abound in this tale of taboo hookups! Some people just can't turn their back on their devious, promiscuous lovers....