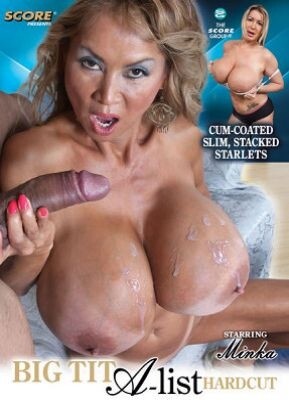 Culled from a previous 2011 Score Group release entitled "Big Tit A-List 2," these five scenes pretty much cover the gamut of tastes. You've got an Asian (Minka), Latina (Jaylene Rio), an anal scene (Annina), blondes and brunettes, older and younger chicks, as well as five pairs o' big ol' titties, including "supertankers" (meaning way-oversized, obviously augmented breasts on females — with small and/or thin bodies); with the most rewind-worthy scenes care of Minka, Jaylene Rio (here listed as Daylene Rio), Annina, and Eva Knotty.

DVD cover model Minka — equipped with her 44KK supertankers and slim, curvy, direct-from-Seoul bod — always puts in a memorable performance. Sporting her bizarre pair o' 44KK's, Minka looks like she's barely able to balance herself when that slim body is standing erect and struggling with those unruly bowling-ball boobs. Unfortunately, while she's still a good-looking older woman, she always seems to rush through her sex scenes. We like her ass, too. But her tits are so massive, it's just not humanly feasible to get her face flat while in the doggie position to really show off the jiggling nature of those butt cheeks, simply because the boulders on her chest will always keep her, well, afloat. Pity. Still, we have a soft spot in our hearts — and a way hard one in our pants! — for this well-seasoned, sultry Korean whore.

My favorite of the "A-List" lot here, however, is Jaylene Rio, simply because she's so cushy (as in soft, fleshy, pillowy) — and dirty. While Jaylene is no raving beauty, there's a joyously voluptuous quality about this Latina (well into her thirties), making her all the more flexible and fun in bed, while she possesses a truly filthy mouth, which she puts to good use, indeed, via one superlative blowjob (with, for the most part, no hands!); an oral favor ever so lustfully delivered to the unworthy Levi Cash. She also has a marvelously jelloey pair of butt cheeks, while the whole olive-skin thing is magnificent wrapping paper on an all-around tasty package. And check out those awesome, all-natural boobs with the large areolas, which she loves to suck on, after they're lathered with her own spit. A passionate, nasty fuckette born for this business.

Next, equipped with total supertanker tits, is bite-sized Annina, flaunting the tautest body of all five ladies, while similarly a filthy little thing, taking it deep up the ass. And I love the way she gives this little slut's sneer (it's a good thing, trust us) as J-Mac seriously sodomizes her.

Lastly, all-natural, big-boobed, delicious-assed Eva Notty presents a good, sweaty fuck to finish off this surprise-laden DVD. Even though we weren't pleased with the sudden appearance of a condom in her scene, Eva is still (like Jaylene Rio) in that oh-so-cushy-you-can't-resist-her league. Cunt-sequently, the appearance of a rubber ain't quite so catastrophic. Still, we wanna see more of this bawdy bitch WITHOUT raincoats.

While the focus of "Big Tit A-List Hardcut" is, as the title far from subtly suggests, on over-sized breasts, the movie (while a compilation) has a lot going on in terms of various overlapping genres and fetishes. Plenty to recommend here.
Synopsis:
Welcome to big boob VIP... This is the top of the tits where only the most boob-obsessed SCORE men and the most-slim and super-stacked babes are permitted. This instant classic is a DVD for the ages featuring a who's who of slim-and-super-stacked superstars on their naughtiest behavior!