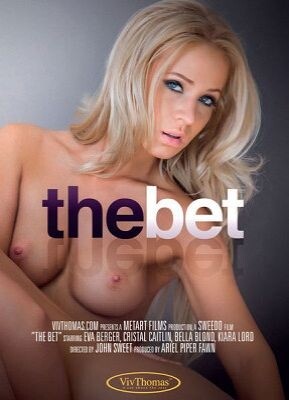 In gambling, there's such a thing as a long shot. This title from MetArt Films would be the opposite of that. With four European stunners gracing the screen in "The Bet," this is as close to a sure thing as there is in porn.

The setup is a simple one, and that's ok. Kiara Lord and Cristal Caitlin are bored by the pool and Kiara comes up with a great idea. She says to Cristal, let's see who can fuck the most girls and they make a bet. "Let's see who's gonna win," Lord says in her Hungarian accent.

The irony of course is that we're all winners after getting to watch Lord and Caitlin with a different girl in every scene. Perhaps the best of the bunch is the shower session with Bella Blond and Lord getting all wet and rinsing each other off. Shower scenes just never get old. The scene with Blond and Caitlin rolling around on satin sheets takes a close second place.

But we cant forget about the closer with Kiara and Cristal hooking up like we knew they would when this started, and these two don't disappoint in another ball-drainer of a session.

No toys were involved in this shoot, but they didn't need 'em. The sheer beauty of these performers and the sensuality of the scenes carried the day.
Synopsis:
Two stunning blondes - Kiara Lord and Cristal Caitlin - are lounging around in their bikinis on a sunny summer day. Everything seems perfectly fine, but they've got a problem: they're bored. So they make a friendly wager to see who's had sex with the most girls. And with a handshake and a smile, "The Bet" begins. Cristal Caitlin's first conquest is luscious redhead Eva Berger. Cristal is all over her lovely playmate who seems almost overwhelmed by the lusty attention, but after Caitlin has sucked and fingered Eva's pussy and hungrily tongued her ass she explodes in orgasm. Then Caitlin sits on Berger's face and gets sucked, licked, rimmed, and powerfully satisfied. Kiara Lord and cream-skinned Bella Blond steam up a shower stall during the next sexing, eating slit, tonguing clit, and thoroughly lathering every delicious inch of each other's beautiful bodies with outstandingly orgasmic results. Cristal Caitlin also enjoys a torrid tryst with Bella Blond that's filled with aggressive, lusty physicality and copious quantities of cunt-sucking, ass-eating and a sizzling session of sixty-nine. Nicely warmed up by their little wager, Kiara Lord and Cristal Caitlin take each other on for a particularly grand finale. Cristal gets the ball rolling by going down on Kiara first - while Kiara films her with a smartphone - but by the time they're finished, they've stroked, probed, sucked, licked, and rimmed each other to orgasmic ecstasy. In "The Bet" everyone's a winner!